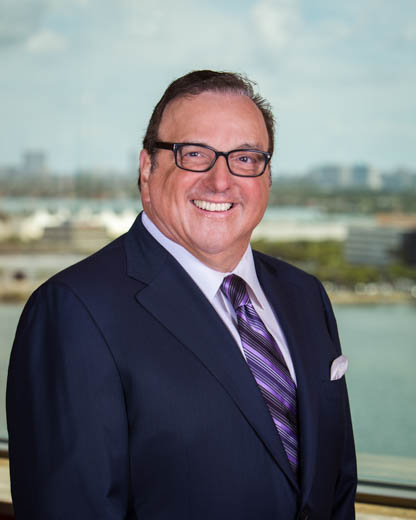 Arthur J. Furia, a partner in the Miami office of Shutts & Bowen LLP, has been appointed Honorary Consul of the Republic of Malta with jurisdiction for the State of Florida. The Ambassador of Malta to the U.S. Keith Azzopardi congratulated Mr Furia, while describing him as a great asset for the country to strengthen its cooperation on different levels with the important state of Florida.
As Honorary Consul, Furia will serve as the main link between the Embassy of Malta in Washington D.C. and the state of Florida while assisting the Maltese diaspora and others in terms of consular matters.
"Malta is an impressive force in international business, starting with the maritime industry, as many of Florida's cruise ships, sea cargo vessels, and mega yachts are flagged in Malta," said Furia. "As a member of the European Union and English speaking, Malta has notched up an impressive record in attracting foreign investment in various other sectors such as financial services, information and communications technology, and internet-related remote education. I am honored to be representing Malta's interests throughout the state, and to promote diplomatic, economic and cultural relations within Florida."
On his appointment as Honorary Consul, Ambassador Azzopardi said Furia was tailor-made for the position.
"Mr. Arthur Furia's credentials make him the ideal candidate to represent Malta in the state of Florida. I trust that he will best assist our diaspora and promote social, cultural and economic cooperation between Malta and the State of Florida. I look forward to working with Mr Furia."
Furia is a partner in the Miami office of Shutts & Bowen LLP, where he is a member of the Corporate/International Business Practice Group. He has more than 30 years of experience serving as legal counsel to a number of prominent Florida-based corporations and subsidiaries of European-based entities.
In 1992, he was invested into the Association of Master Knights of the Sovereign Order of Malta, a world-wide organization with long historical roots dedicated to serve the needs of the world's sick and poor. He also serves as a member of the Order of Malta's board of directors in the Florida region.
In June 2008, he was designated "Cavaliere Ufficiale" by the President of the Republic of Italy for his life's work on behalf of the Republic of Italy.
He is active in the international business, educational and cultural communities serving in leadership positions thru his professional life from his residence in Miami.
###
About Shutts & Bowen LLP
Shutts & Bowen, established in 1910, is a full-service business law firm with approximately 300 lawyers in offices in Ft. Lauderdale, Jacksonville, Miami, Orlando, Sarasota, Tallahassee, Tampa, and West Palm Beach. Learn more about Shutts & Bowen at www.shutts.com.