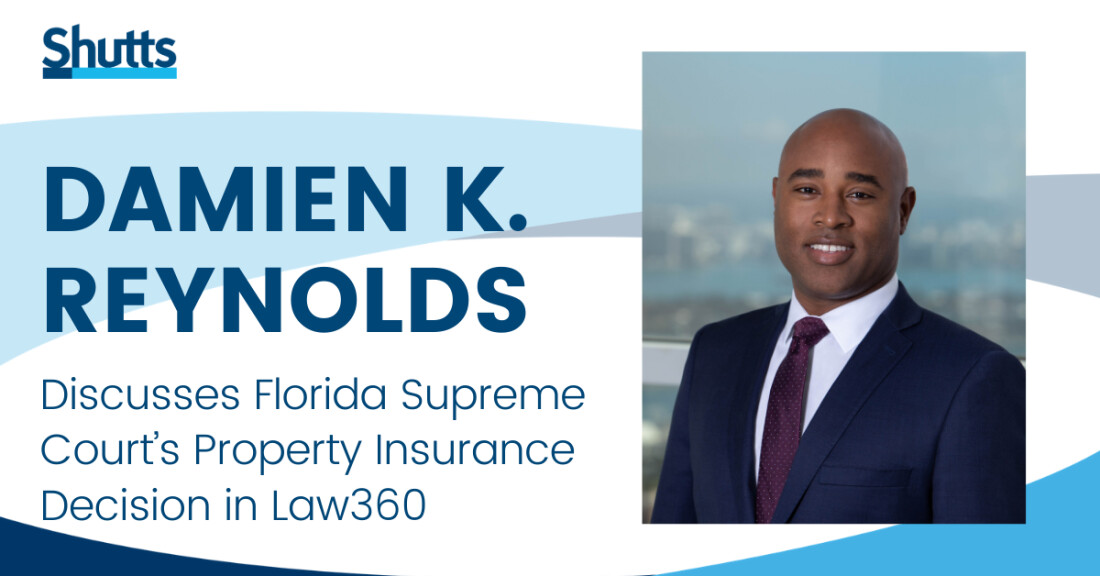 Damien K. Reynolds, an Associate with Shutts & Bowen LLP's Miami office, was recently quoted in the Law360 article, "Fla. Justices Close Extra Damages Avenue for Policyholders." The article discusses the decision by Florida's highest court, in Citizens Prop. Ins. Corp. v. Manor House, LLC, SC19-1394 (Fla. Jan. 21, 2020), to foreclose extracontractual, consequential damages in insurance breach of contract disputes.
The January 21 ruling found that such "consequential damages should be sought only in actions alleging bad faith, as opposed simple breach of contract suits."
In the article, Damien praised the court's decision for rebuffing "an attempted end-run around the procedural safeguards" that reside in Florida's insurance laws, pointing out that failing to do so would open the floodgates for plaintiffs' attorneys to seek extracontractual damages in breach of contract actions.
"The court rightly closed that path off," Damien said. "We have a system where you have to prove there was a breach of contract before you can make bad faith-type allegations and seek damages for them."
The full article can be read here (subscription required).
About Damien K. Reynolds
Damien K. Reynolds is an attorney in the Miami office of Shutts & Bowen LLP, where he is a member of the Insurance practice group. Prior to joining Shutts, Damien served as an intern for the Department of Justice and as a legal intern for the Community Justice Project.
Practice Areas
Industries
Offices