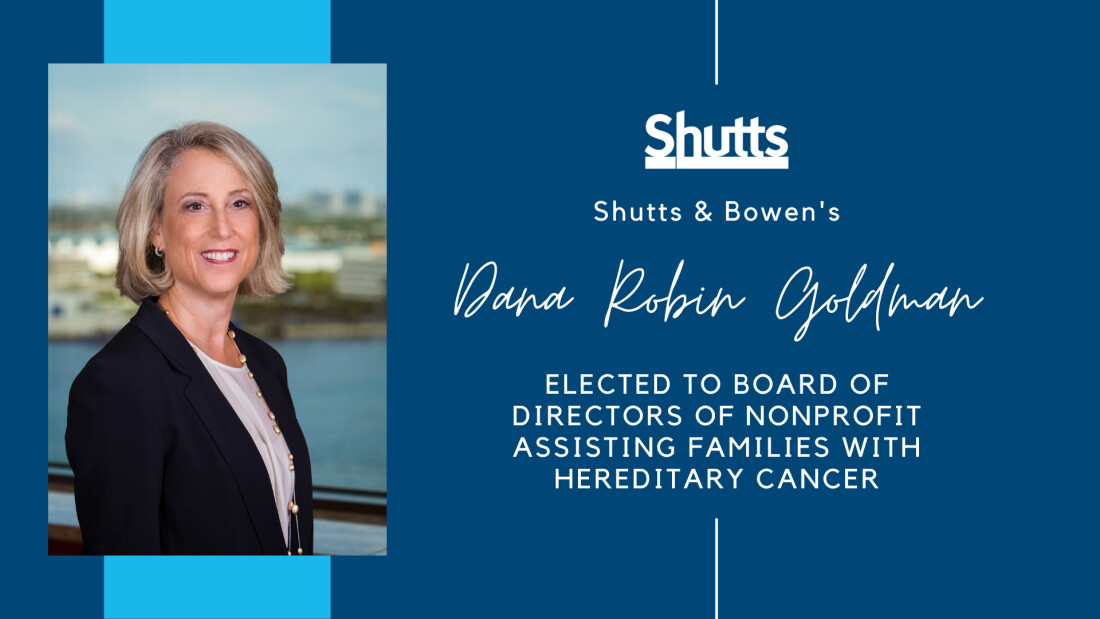 Facing Our Risk of Cancer Empowered (FORCE), the nation's only nonprofit organization dedicated to families facing hereditary cancers, recently elected Dana Robin Goldman -- Of Counsel to Shutts & Bowen's Miami office -- to its Board of Directors.
FORCE is dedicated to providing up-to-date, expert-reviewed information and resources that help people make informed medical decisions. FORCE serves as a champion for cancer survivors, unifying the community and advocating for awareness, access to care and better treatment and prevention options. Their strong, supportive community of peers and professionals ensures that no one faces hereditary breast, ovarian, pancreatic, prostate, colorectal and endometrial cancers alone.
Members of FORCE's Board of Directors have been personally affected by hereditary cancer or cancer risk, or have a strong interest in reaching out to others whose families have been devastated by this disease. Their board members are dedicated to fulfilling the organization's mission of helping shape policies and strategies, connecting with other organizations and assisting in outreach, research, education, advocacy, support and development.
A 20-year cancer survivor, Dana is especially motivated to raise awareness about Lynch syndrome and the importance of genetic counseling and testing. A living testament to vigilant and proactive screening and early diagnosis, she is an advocate for policies in support of additional funding, research programs and resources for genetic-based cancers.
"I am honored to be a part of this organization," she said. "FORCE is passionate about helping all who have been diagnosed -- as well as those who are at high risk -- navigate their confusing and often frightening journey."
A member of Shutts & Bowen's Real Estate Practice Group, Dana represents national and regional homebuilders with the development of their condominiums and planned development communities, including covenant drafting, special disclosures, Division of Florida Condominiums, Timeshares and Mobile Homes (Condominium) and Consumer Finance Protection Bureau (Interstate Land Sales Full Disclosure Act) filings and secondary mortgage market financing.
She received her J.D. from George Washington University Law School and her A.B., magna cum laude, from Brandeis University.
About Shutts & Bowen LLP
Shutts & Bowen, established in 1910, is a full-service business law firm with approximately 300 lawyers in offices in Ft. Lauderdale, Jacksonville, Miami, Orlando, Sarasota, Tallahassee, Tampa, and West Palm Beach. Learn more about Shutts & Bowen at www.shutts.com.
Practice Areas
Industries
Offices