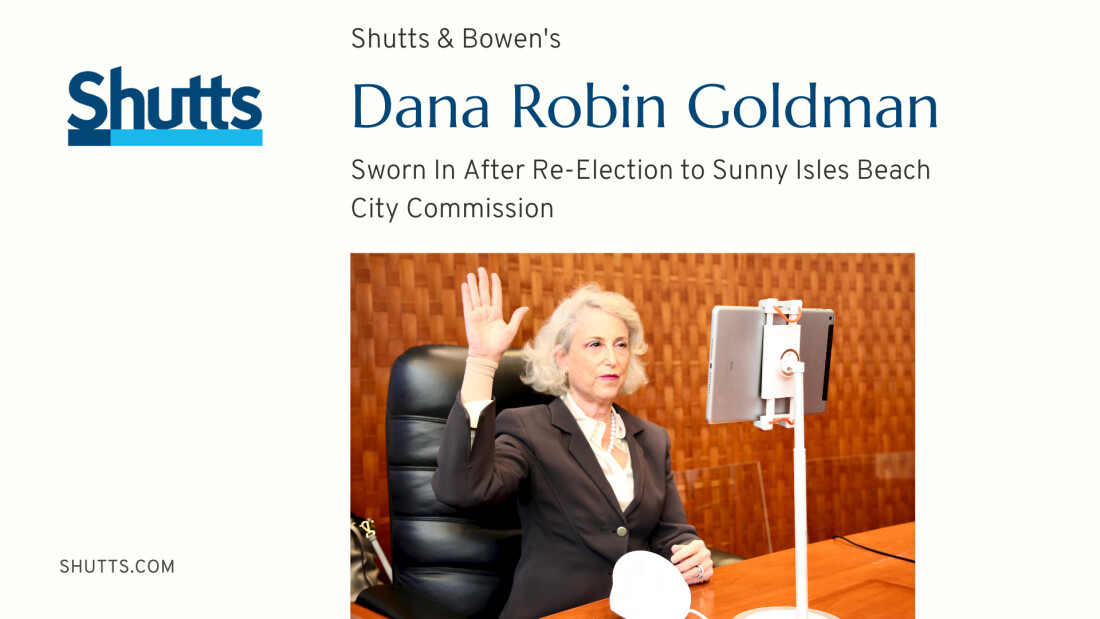 Dana Robin Goldman, Of Counsel to Shutts & Bowen LLP's Miami office, was sworn into office Thursday, December 3rd to another two-year term on the Sunny Isles Beach City Commission following her win in the November 3rd general election.
Incorporated in 1997 and having a population of about 22,100, the City of Sunny Isles Beach operates under a "Mayor-Commission-Manager" form of government. As Commissioner, Dana will be responsible for the setting of City policy, approval of its budget, determining its tax rates, the hiring and firing of charter officers, and the development of community land policies.
Some of the initiatives Dana has championed for Sunny Isles Beach include improving outreach to condo residents and associations, ensuring sensible re-development, building a community center for seniors, making streets safer for school children and other pedestrians, and reducing school overcrowding.
"I am elated and want to thank the residents of Sunny Isles Beach for choosing me to serve two more years," Dana said. "There is so much to be done, and I am ready to jump in feet first and continue tackling the challenges facing the city."
A member of Shutts & Bowen's Real Estate Practice Group, Dana represents national and regional homebuilders with the development of their condominiums and planned development communities, including covenant drafting, special disclosures, Division of Florida Condominiums, Timeshares and Mobile Homes (Condominium) and Consumer Finance Protection Bureau (Interstate Land Sales Full Disclosure Act) filings and secondary mortgage market financing.
She also holds a real estate broker license and a mortgage loan originator license, which allows her better access to real estate and finance opportunities in the market for her clients. In addition to her legal experience, Dana has extensive prior experience as a business owner and operator.
She received her J.D. from George Washington University Law School and her A.B., magna cum laude, from Brandeis University.
About Shutts & Bowen LLP
Shutts & Bowen, established in 1910, is a full-service business law firm with approximately 300 lawyers in offices in Ft. Lauderdale, Jacksonville, Miami, Orlando, Sarasota, Tallahassee, Tampa, and West Palm Beach. Learn more about Shutts & Bowen at www.shutts.com.
Practice Areas
Industries
Offices