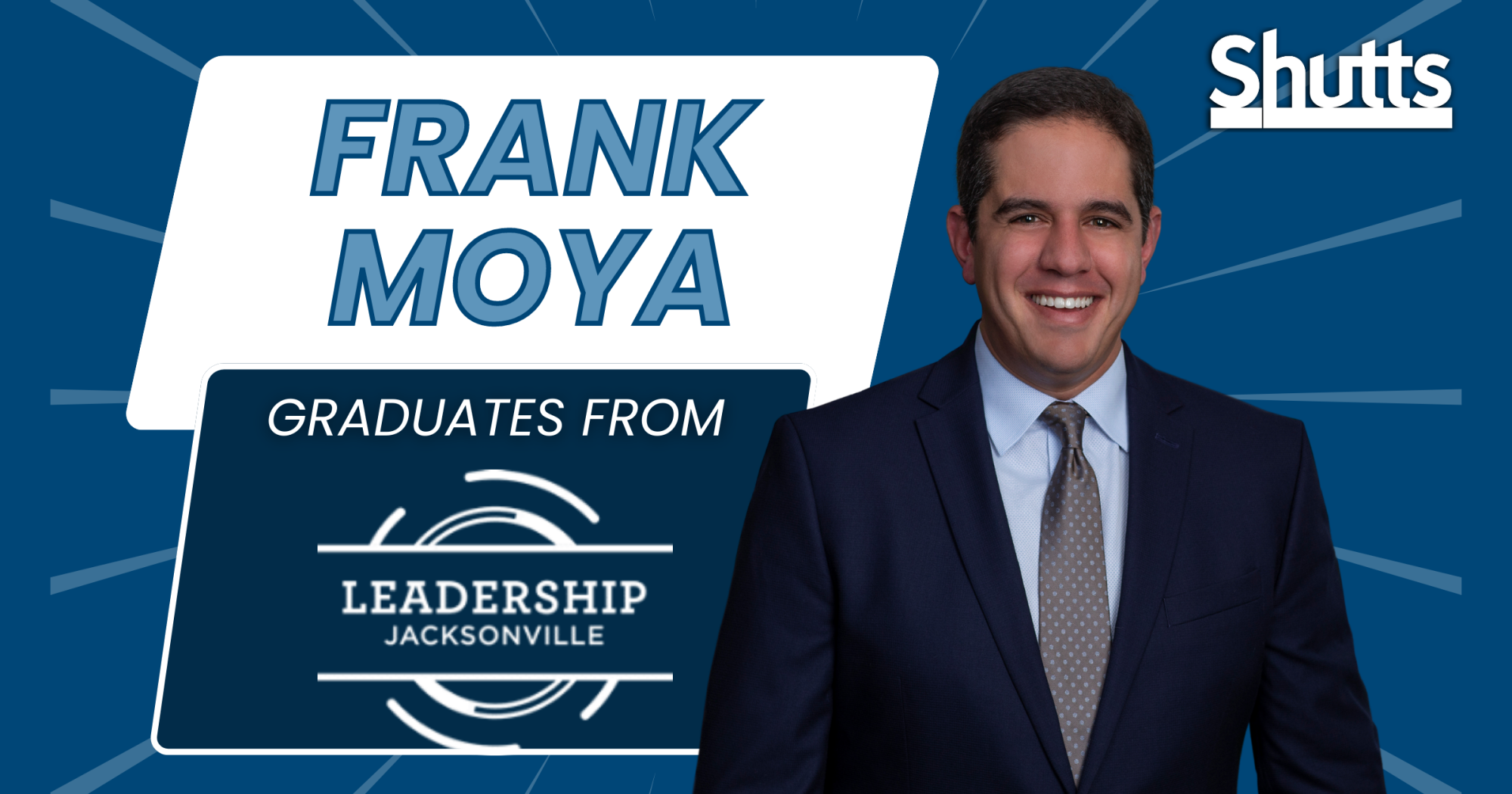 Frank Moya, a partner in Shutts & Bowen LLP's Jacksonville office, has graduated with the class of 2023 from the flagship program, Leadership Jacksonville.
Leadership Jacksonville is a highly competitive year-long program, bringing together over community 50 leaders in each "class," to build relationships and better serve as an ethical community leader. The program analyzes major areas of community concern, provides opportunities for open dialogue between leaders with diverse perspectives, examines leadership styles and promotes a network of ethical community leaders committed to the greater good.
"I remain committed to the greater good of my community and am excited to see what the future holds for LJ 2023," said Frank.
Formed in 1976 as a vehicle to stimulate the growth of leadership in the community, Leadership Jacksonville educates, connects and inspires diverse leaders to build and strengthen their communities. The mission of the organization is to be the catalyst for vibrant, connected communities where diverse perspectives are valued and encouraged for the greater good.
About Frank T. Moya
Frank Moya is a partner in the Jacksonville office of Shutts & Bowen LLP, where he is a member of the Construction Practice Group. Frank represents businesses and individuals, including general contractors, owners, volume homebuilders and design professionals in matters related to construction disputes and civil litigation. He has extensive experience in complex commercial litigation across several industries, including the construction, banking and finance, real estate and insurance sectors. He has represented clients in cases spanning a wide range of issues, including construction defect disputes, payment and lien foreclosure actions, claims involving breach of contract, indemnity, breach of express and implied warranties, building code violations, payment disputes, deceptive and unfair trade practices, delay claims and various negligence claims.
Practice Areas
Industries
Offices