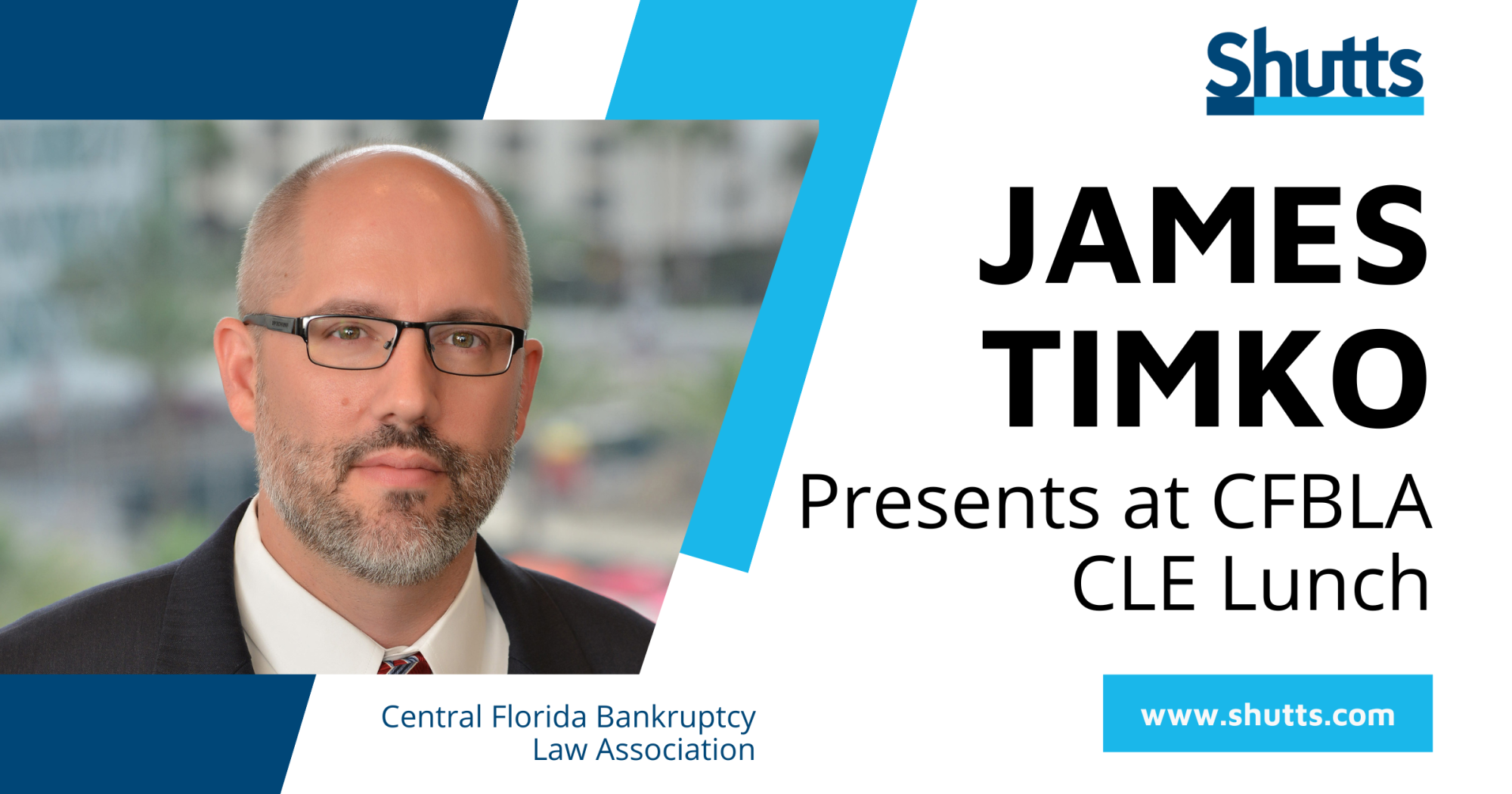 On August 30, 2022, James Timko, a partner in Shutts & Bowen LLP's Orlando office, presented at the Central Florida Bankruptcy Law Association (CFBLA) and the Bankruptcy Court Brown Bag CLE Lunch discussing witness examination.
The CLE presentation, titled "Hearing & Trial Practice: Part IV – Examining Your Witness," was part of a series of seminars by the bankruptcy judges of the Orlando Division regarding various topics related to the practice of bankruptcy. The first six parts of the series involved Hearing & Trial Practice. During the August 30th CLE, the special guest featured speaker was Judge Vaughan.
The Central Florida Bankruptcy Law Association (CFBLA) is a non-profit organization that supports the collegial and professional practice of bankruptcy law in the Orlando Division of the Middle District of Florida. This is done through continuing education and service to the bench, bar and community. The organization serves all bankruptcy practitioners in Orange, Osceola, Seminole, Lake and Brevard counties. For more information on this event, click here.
About James A. Timko
James Timko is a partner in the Orlando office of Shutts & Bowen, where he is a member of the Creditors' Rights/Bankruptcy Practice Group and a business litigator. James has received Martindale-Hubbell's highest rating as an attorney whose practice involves distressed assets, bankruptcy and commercial litigation. James represents creditors, debtors, secured, lenders, mortgage companies, landlords, franchisors, bankruptcy trustees and other business enterprises in chapter 7 and chapter 11 bankruptcy cases and in assignment for the benefit of creditors cases. He's represented creditors in bankruptcy cases across the country, including Florida, California, Texas, Delaware, New York, and Pennsylvania.