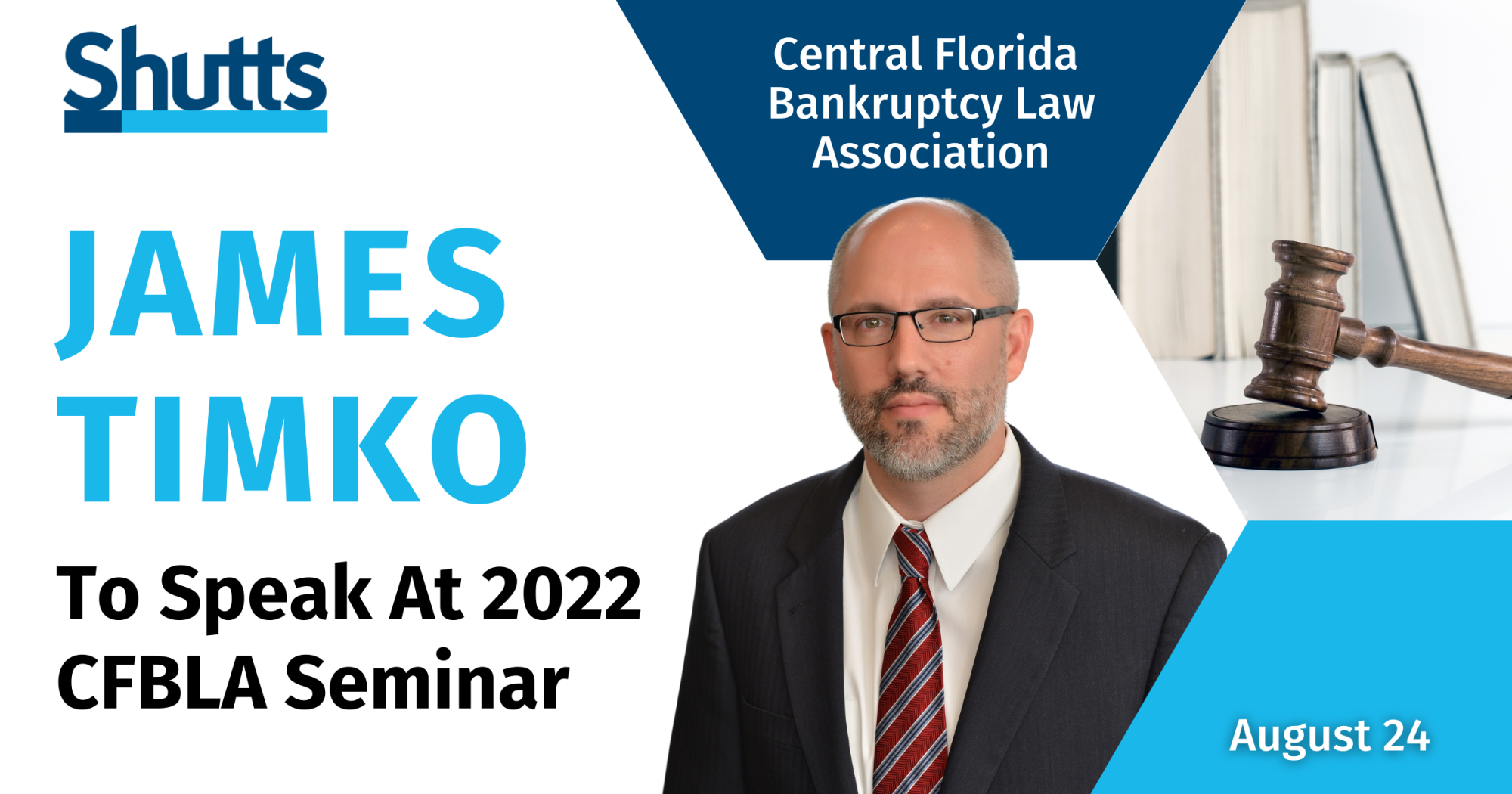 Shutts & Bowen LLP is pleased to sponsor the upcoming Central Florida Bankruptcy Law Association (CFBLA) 28th Annual Seminar, organized by Orlando partner and Chair of the CFBLA Seminar Committee, James Timko. James will also act as moderator during an educational session at the event, taking place on August 24, 2022.
The event, which will be held at the Orlando Citrus Club, includes 9.5 General Hours, 1 Ethics Hour and 1 Technology Hour of CLE. The seminar features a variety of programs focusing on topics including trending bankruptcy issues, factoring, e-Discovery, case law updates, Chapter 13 updates and more. James will act as moderator during the "Bankruptcy Judges' Panel Best Practice Tips and Hot Topics in Bankruptcy" session, featuring important bankruptcy discussions among Judges Delano, Vaughan, Robson, Geyer and Burgess.
The Central Florida Bankruptcy Law Association (CFBLA) is a non-profit organization that supports the collegial and professional practice of bankruptcy law in the Orlando Division of the Middle District of Florida. This is done through continuing education and service to the bench, bar and community. The organization serves all bankruptcy practitioners in Orange, Osceola, Seminole, Lake and Brevard counties. For more information on this event, click here.
About James A. Timko
James Timko is a partner in the Orlando office of Shutts & Bowen, where he is a member of the Creditors' Rights/Bankruptcy Practice Group and a business litigator. James has received Martindale-Hubbell's highest rating as an attorney whose practice involves distressed assets, bankruptcy and commercial litigation. James represents creditors, debtors, secured, lenders, mortgage companies, landlords, franchisors, bankruptcy trustees and other business enterprises in chapter 7 and chapter 11 bankruptcy cases and in assignment for the benefit of creditors cases. He's represented creditors in bankruptcy cases across the country, including Florida, California, Texas, Delaware, New York, and Pennsylvania.