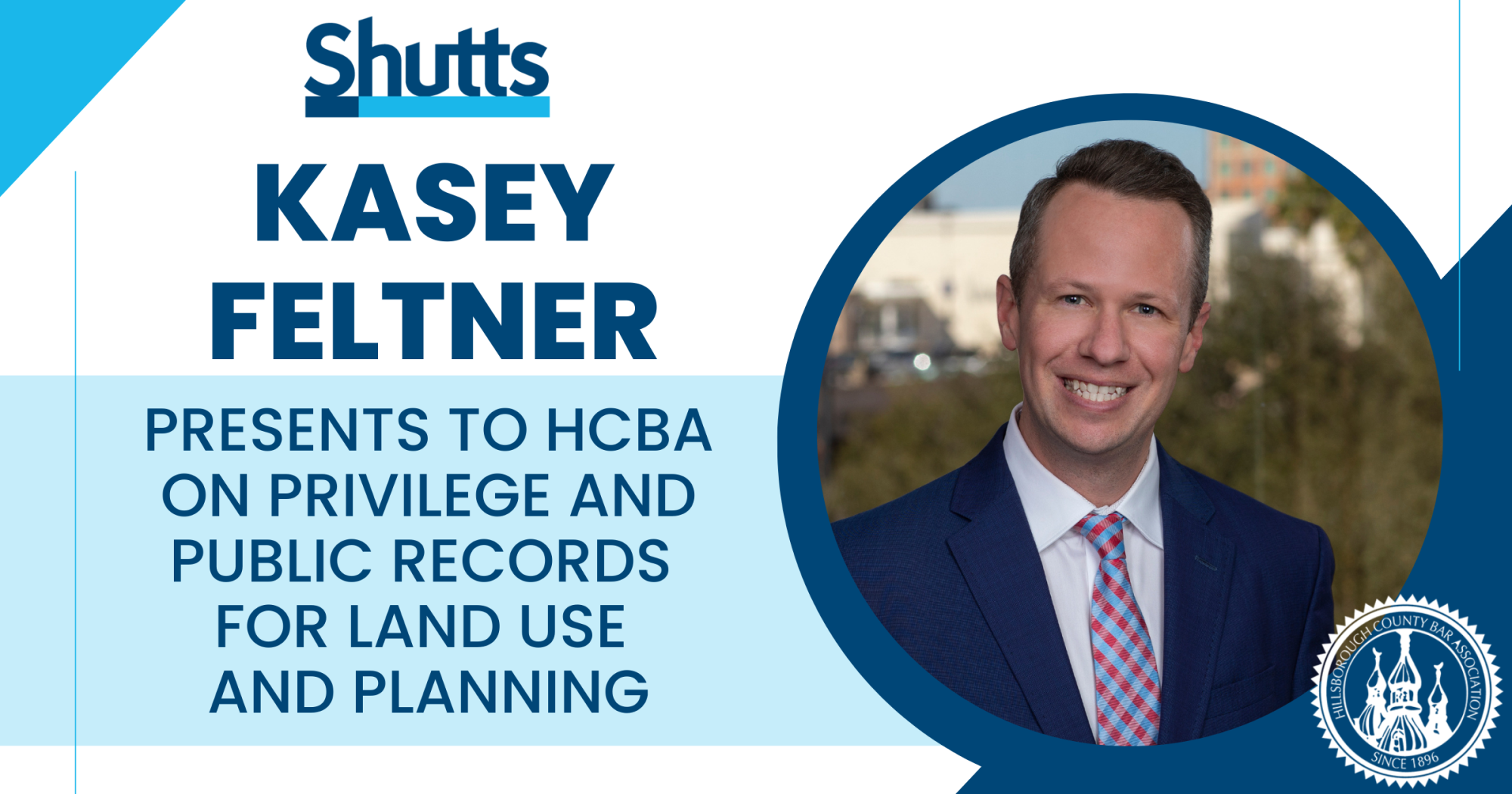 Kasey Feltner, an attorney in Shutts & Bowen's Tampa office, presented a CLE presentation to the Real Property, Probate & Trust Law (RPPTL) Section of the Hillsborough County Bar Association on November 2, 2022.
Kasey presented the CLE course, titled "Privilege and Public Records Issues for Land Use and Planning," at the Chester H. Ferguson Law Center during the RPPTL Section's monthly luncheon. During the presentation, Kasey discussed the importance of ensuring the maintenance of an accurate record, maintaining privileged communications in preparation of hearings, common mistakes in losing privilege, public records, what public records an applicant is entitled to and the do's and don'ts of preparation essentials in local land use and zoning matters.
The Hillsborough County Bar Association is one of the largest voluntary bar associations in Florida with a membership close to 4,000 attorneys, judges and legal professionals. The Real Property, Probate and Trust Law Section works to improve the implementation and application of laws, rules and regulations in the fields of real property, probate and trust law and to accomplish legislative objectives and to improve the administration of real property, probate and trust laws.
About Kasey A. Feltner
Kasey A. Feltner is an Associate in the Tampa office of Shutts & Bowen LLP, where he is a member of the Business Litigation Practice Group. Kasey's practice focuses on a broad range of complex commercial litigation matters, including real estate litigation, as well as transactional real estate matters. His real estate litigation experience includes landlord/tenant disputes, land use litigation, ad-valorem tax challenges, utilities right-of-way and easement disputes, and impact fee challenges. Kasey currently serves as the Co-Chair of the Hillsborough County Bar Association's Real Property, Probate & Trust Law Section and is an active member of the National Rental Housing Council. Prior to his legal career, Kasey served on active duty with the United States Coast Guard. He currently serves in the United States Coast Guard Reserve as CG Legal Officer.
Practice Areas
Industries
Offices