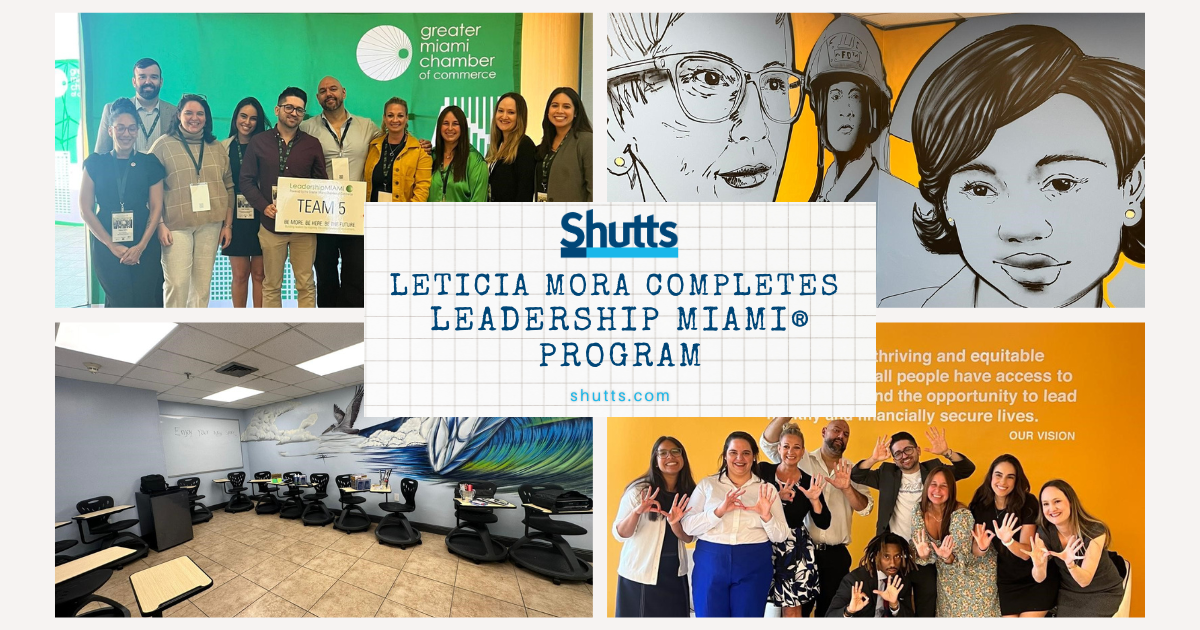 Miami associate Leticia Mora, a member of the firm's International Dispute Resolution Practice Group, has completed the Greater Miami Chamber of Commerce's Leadership Miami® Program.
Leadership Miami® offers participants the opportunity to share an intensive learning experience that focuses on community issues and leadership skills through a planned process of lectures, seminars, small group discussions, and leadership curriculum developed in partnership with local universities. One of the key purposes of Leadership Miami® is to prepare the next generation of Miamians to address vital issues affecting Miami-Dade County and meet future challenges. The program's dynamic format stimulates animated and critical discussions among participants and guest speakers.
A critical component and rewarding part of the program is the participation by all members in a volunteer service project of their team's choosing at Opening Conference. The purpose of this portion of the program is to broaden participants' awareness of community needs and facilitate their involvement in local volunteer programs, aid in the empowerment and revitalization of Miami-Dade County, and to provide a fun environment where participants can practice/develop team and individual leadership skills.
Lety and the members of Team 30(THRIV)5 partnered with New Horizons Community Mental Health Center, a non-profit community-based agency serving a federally designated area of poverty in Miami-Dade County, and their "Our Future Matters" program to help build a better future for teens in the criminal justice system. The Center offers a wide range of preventative, therapeutic and supportive outpatient and social rehabilitative services to both adults and children.
Through Leadership Miami, Team 30(THRIV)5 successfully renovated three primary areas of New Horizons Community Mental Health Center – their computer classroom, social interactive room and quiet room – in order to give youth in the Department of Juvenile Justice (DJJ) system a place to learn, grow, collaborate and advance. Their efforts will give participants an opportunity to achieve and maintain a lifestyle free of crime and lead them into contributing roles in society through access to new and modern technology and an interactive recreational space.
Lety and her team raised approximately $15,000 and an additional $112,000.00 of in-kind donations acquired new and gently used laptops for the children and created opportunities for future skills training. Additionally, Lety was a leader in Pitch Night, a well-established tradition of the Leadership Miami curriculum, where she successfully led the team through a Shark Tank-style presentation, resulting in an award and funding for her team.
About Leticia Mora
Leticia Mora is an Associate in the Miami office of Shutts & Bowen LLP, where she is a member of the International Dispute Resolution Practice Group. Leticia focuses her practice on complex litigation matters, international arbitration, and international business transactions. As a native Spanish speaker, Leticia has participated in the successful resolution of high-stakes legal disputes representing foreign and domestic clients doing business in the U.S. and Latin America.
Related News