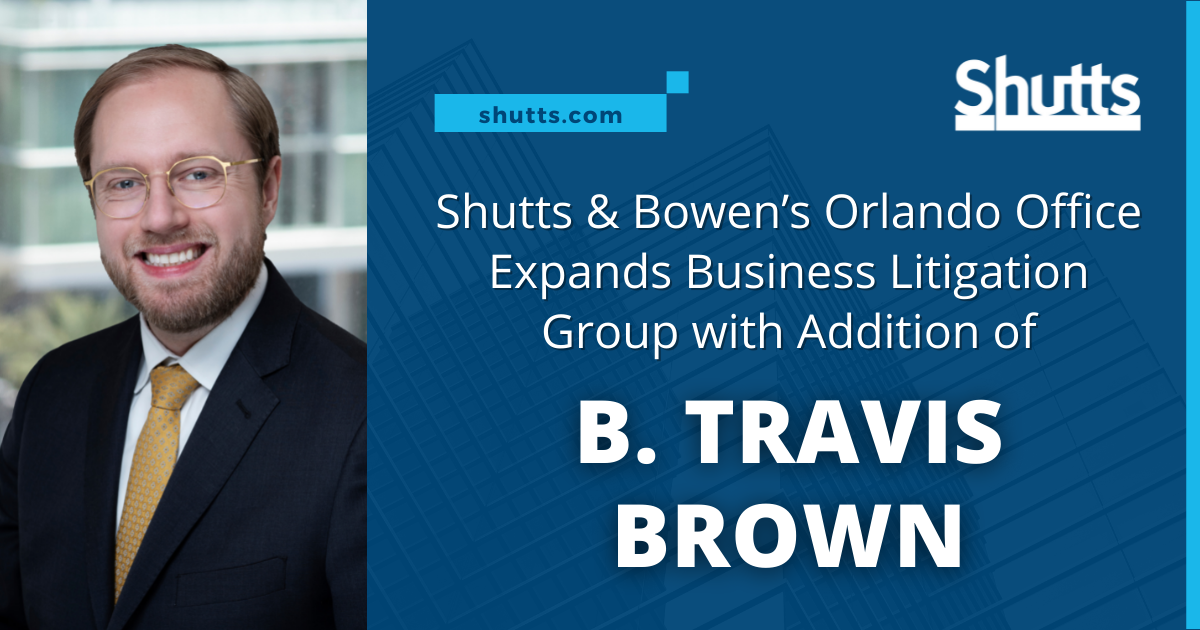 Shutts & Bowen LLP is pleased to announce the expansion of its Business Litigation Practice Group with the addition of attorney B. Travis Brown in the Orlando office. Also a member of the firm's Hospitality Practice Group, Travis previously served as an Assistant Attorney General for the State of Tennessee, where he focused on consumer protection investigations, litigation and regulatory issues.
Travis will leverage his public sector experience to assist clients at Shutts across a broad range of business and industry sectors, including technology, hospitality, telecommunications, financial services and automotive. He focuses his practice on complex civil litigation matters, with an emphasis on disputes and investigations related to consumer protection, policy and government regulatory concerns. He also works on complex multi-state and multi-jurisdiction investigations by state and/or federal agencies.
Further bolstering the ranks of the firm's growing Business Litigation and Hospitality Practice Groups, Travis combines his litigation and regulatory experience to advocate for and serve his clients' strategic business interests in emerging technology developments, government affairs and consumer protection trends. He is well-versed in a wide range of matters involving the areas of government investigations and regulation, advertising and marketing compliance, data privacy and security, as well as other unfair trade practice issues.
"Shutts & Bowen has an exceptional Litigation Practice and the growth of our legal team is indicative of the demand for our market-leading legal advocacy," said Bud Bennington, a Senior Partner and leader of the firm's Business Litigation Practice Group. "Travis is a fantastic addition to the firm and will strengthen our statewide presence in consumer and regulatory affairs."
Travis' move to Shutts precedes another prominent addition to Orlando's litigation team, with the recent hiring of Partner Donna C. Valin from the Florida Attorney General's Office.
"I am excited to grow my practice with Shutts, an esteemed Florida firm with a reputation for excellence," said Travis. "I look forward to working in cooperation with Bud Bennington and my team, not only to advocate for our clients, but also to ultimately expand the firm's litigation services amid the emergence of new legal developments and technological trends."
About Shutts & Bowen LLP
Shutts & Bowen, established in 1910, is a full-service business law firm with approximately 300 lawyers in offices in Ft. Lauderdale, Jacksonville, Miami, Orlando, Sarasota, Tallahassee, Tampa, and West Palm Beach. Learn more about Shutts & Bowen at www.shutts.com.