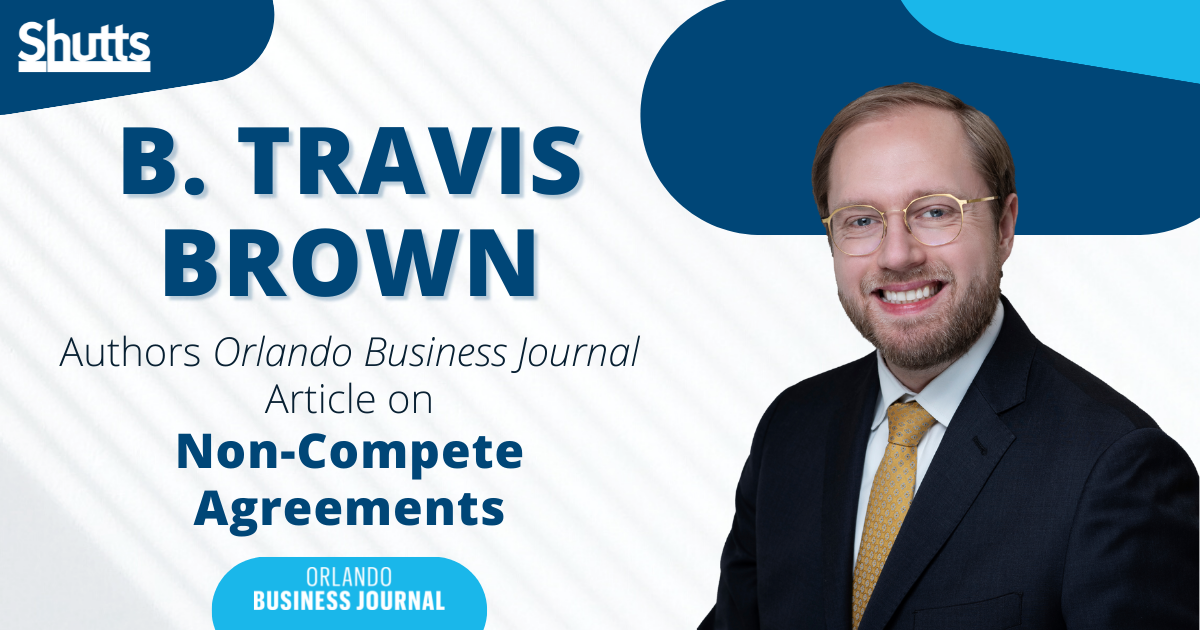 B. Travis Brown, an attorney in Shutts & Bowen LLP's Orlando office, recently authored an article in the Orlando Business Journal discussing the importance of protecting business interests through non-compete agreements as the remote workforce continues to grow.
The article, entitled "Here's what you need to know about non-compete agreements in the age of work-from-home employees," Travis provided an overview of how a carefully crafted non-compete agreement can be enforced should a former employee run afoul of the agreement's restrictions. He also discusses the complexities that arise when Florida companies try to enforce such agreements for remote employees.
In the article, Travis points out that the non-compete or non-solicitation agreements that Florida employers have relied on may need to be revisited due to changes to the workforce over the last several years.
"As businesses continue to hire remote employees, the forum selection clauses or geographic reach of existing non-competes may not comport with the laws of other states or a certain employee's specific situation," says Travis. "For businesses that take efforts to protect their trade secrets, confidential information or client base, consistently reviewing and updating non-compete provisions of employment agreements is critical to maintaining and enforcing those protections."
To read the Orlando Business Journal article in full, click here.
About B. Travis Brown
B. Travis Brown is an attorney in the Orlando office of Shutts & Bowen LLP, where he is a member of the Business Litigation Practice Group. Travis' practice is primarily focused on complex civil litigation matters, with an emphasis on disputes and investigations related to consumer protection, policy and government regulatory concerns. Travis combines his advocacy and regulatory experience to best represent his clients throughout a broad range of business and industry sectors, including technology, hospitality, telecommunications, financial services and automotive. Travis is substantially experienced in the areas of: Government investigations and regulation; Advertising and marketing compliance; Data privacy and security; and, other unfair trade practice issues.