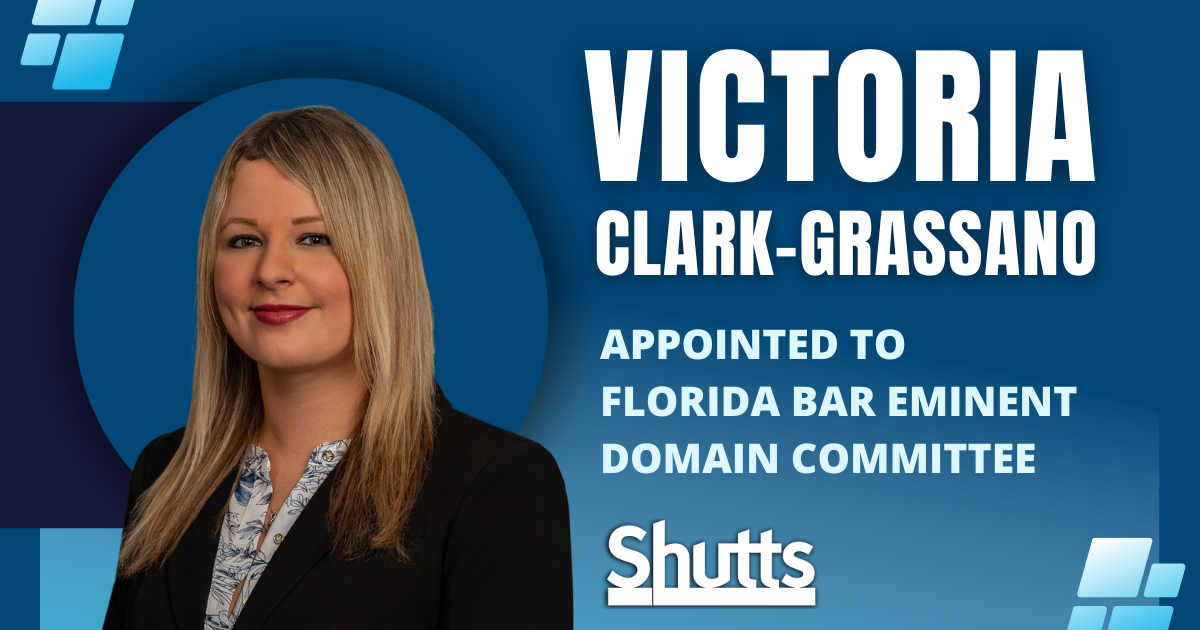 Victoria Clark-Grassano, an attorney in Shutts & Bowen LLP's Tampa office, has been appointed to the Eminent Domain Committee for The Florida Bar by Florida Bar President Gary Lesser. Her one-year appointment is effective July 1, 2023.
The Eminent Domain Committee is responsible for keeping the members of the Bar informed of significant developments in the field of condemnation of private property for public use by governmental agencies or private companies who have the power of eminent domain. The committee maintains liaison with private companies and governmental agencies who have and use the power of eminent domain, and studies and considers legislation, law or problems in the area of eminent domain law. Victoria will work in coordination with her fellow members to advance the mission of the Eminent Domain Committee.
About Victoria Clark-Grassano
Victoria N. Clark-Grassano is an associate in the Tampa office of Shutts & Bowen LLP, where she is a member of the Real Estate Practice Group. Victoria represents business owners, property owners, and investors in matters related to the sale, purchase, transfer, leasing, and financing of real estate. She advises clients on deal structuring, as well as the evaluation and negotiation of transactions involving real property, tangible rights, and intangible rights.
Practice Areas
Industries
Offices