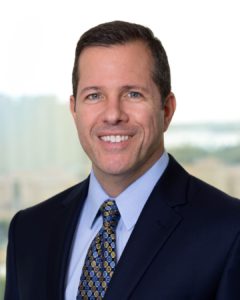 West Palm Beach partner Brian Moskowitz was published in the PBCBA Bar Bulletin's March 2019 issue. The article, titled "The Power of State: 3 Keys to Mastering Your Emotions," delves into how wanting to feel a specific emotion drives individual actions.
Brian states that the three keys that control how a person feels at any moment are their patterns of physiology, focus, and language. Together, these three patterns make up a person's emotional state. Brian learned this concept from Tony Robbins, who refers to the combination of these three patterns as the Emotional Triad. Brian is a Trainer for the Tony Robbins Companies and frequently lectures on attorney well-being.
To read the full article, please click here.
About Brian M. Moskowitz
Brian M. Moskowitz is a Partner in the West Palm Beach office of Shutts & Bowen, where he is a member of the International Arbitration & Litigation Practice Group. Brian's practice is concentrated in the area of Matrimonial and Family law. Licensed to practice in Florida and New York, he represents clients in all family law matters including divorce, division of assets and liabilities, child custody/visitation, alimony, child support, paternity, domestic violence, appeals, modification, enforcement, relocation, and nuptial agreements.