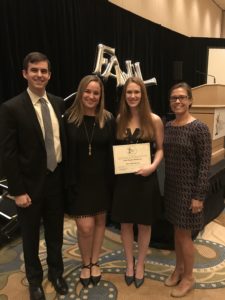 Orlando associate Celeste Thacker was recently honored as one of the Florida Association for Women Lawyers' Leaders in the Law. The award was given at FAWL's Awards and Installation Gala at the Florida Bar Convention on June 13, 2018.
Every year, FAWL recognizes their Leaders in the Law across Florida, and each chapter nominates their best of the best to be recognized. This year, CFAWL nominated Celeste for her entire body of work for CFAWL as well as her activities outside of the organization.
"Celeste represents all that we would want in a practicing lawyer – excellent legal work and dedicated service to the bar and community," said Jamie Billotte Moses, CFAWL Secretary.
Within CFAWL, Celeste currently serves as Membership Chair and will serve as Treasurer-Elect next year. Outside of the organization, Celeste also serves as a Board Member for the Foundation for Foster Children.
About Celeste A. Thacker
Celeste Thacker is an attorney in the Orlando office of Shutts & Bowen LLP, where she is a member of the Real Estate Practice Group. Celeste represents developers and landowners in a broad range of land use and real estate matters. Her practice includes all aspects of commercial land use and real estate transactions.
About CFAWL
CFAWL is a professional organization devoted to actively promoting the advancement and recognition of members in the legal profession; expanding leadership, involvement, and contribution of its members in the community at large; furthering the common interests of, and encouraging camaraderie and learning among its members; facilitating women's opportunities and rights; and upholding the highest standards of integrity, honor, and courtesy in the legal profession. Learn more at cfawl.org.