Today, some of Miami's most respected business, arts and cultural community leaders welcomed the recently appointed Italian Consul General, Gloria Marina Bellelli, at a luncheon hosted by partner Arthur J. Furia in the Miami office.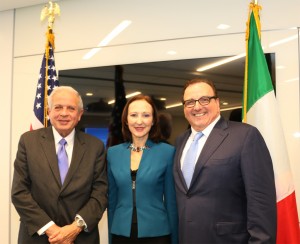 In his opening remarks, City of Miami Mayor Tomas Regalado emphasized the importance of connecting the international community to leaders that can provide their insights and resources to help make the Consul General's introduction to Miami more effective. He also celebrated the role of women leaders in the development of Miami, referencing Julia Tuttle and Mary Brickell who were instrumental in incorporating the City of Miami, a nod to Bellelli serving as the first female Italian Consul General in Miami.
According to Regalado, Miami is a "city where culture meets business" and also the third largest city in the U.S. in the number of its consulates; an indication, he said, that Miami "aspires to be a global city," but that to do so, it must work with people that "represent the world."
"We want to work with you to celebrate your heritage and your culture, because this is the city where everybody celebrates and respects heritage and culture," said Regalado.
Bellelli took office as the Consul General of Miami in September 2015, a jurisdiction composed of Florida, Georgia, South Carolina, Alabama, Mississippi, Puerto Rico, U.S. Virgin Islands, Bahamas, Jamaica, St. Marten, St. Eustatius, Saba, British Virgin Islands, Cayman Islands, Turks & Caicos, and Bonaire. She previously served with Italy's Ministry of Foreign Affairs and also as Chief of Commercial Affairs at the Italian Embassy in Algiers and as Consul at the Italian Embassy in Israel. She's a longtime supporter of the arts and has championed women's rights throughout her career.
Attendees included representatives from the Beacon Council, Enterprise Florida, Univision, Greater Miami Chamber of Commerce, American Airlines, Visa, the Mayor's International Council, Miami International Film Festival, Hilton Hotels, The Wolfsonian FIU, Perez Art Museum Miami, and the Miami Women's Club.