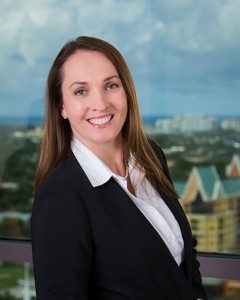 Fort Lauderdale partner Jacqueline Howe appeared on the September 9 episode of Florida Law Talk Radio, a weekly radio show co-hosted by the Broward County Bar Association's President Charles A. Morehead III and board member Gary M. Singer. Florida Law Talk Radio is broadcast live on the Internet on Mondays at 3 p.m and airs on WSBR 740 AM and 96.9 FM.
The show discusses national and local legal issues with members of the Broward Bar. In this episode, Jackie discussed why it's important for business owners to have good counsel to help clients navigate the various legal issues they will encounter, including buying or selling their business, interviewing new employees, the benefits of non-compete or non-solicitation agreements, and more.
Jackie has almost 20 years of experience as a commercial and real estate litigation attorney representing national and local companies in a variety of business disputes. She's represented clients in complex commercial and civil matters including contract, partnership, franchise, employment, insurance defense and real estate related disputes.