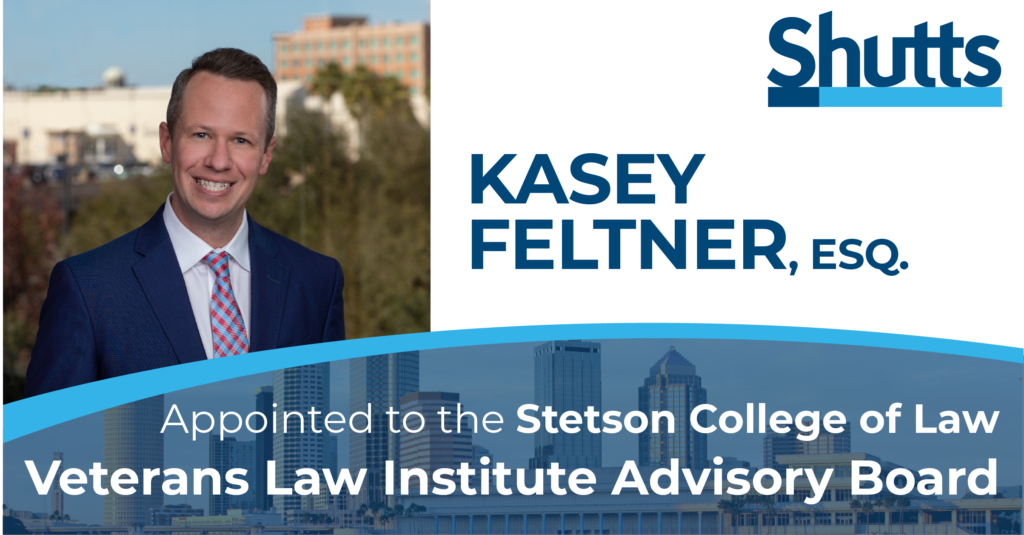 Shutts & Bowen LLP Tampa attorney Kasey Feltner has been appointed to the Stetson College of Law Veterans Law Institute Advisory Board.
According to the organization, the Veterans Law Institute brings together volunteer attorneys, volunteers from other fields, Stetson faculty, Stetson students and other community organizations in an effort to increase legal services available to the growing population of military members, veterans and their families in the Tampa Bay area.
Kasey first volunteered with the Veterans Law Institute while attending Stetson College of Law, where he connected veterans in need of civil legal advice with local attorneys through their Pro-Bono Initiative. Kasey was also selected to participate in the Veterans Law Institute's Clinic, wherein he re-designed the Clinic's client database and represented multiple veterans in their appeals to the U.S. Department of Veterans Affairs and Board of Veterans Appeals.
More information on the Stetson University Veterans Law Institute can be found here.
About Kasey A. Feltner 
Kasey Feltner is an Associate in the Tampa office of Shutts & Bowen LLP, where he is a member of the Business Litigation Practice Group. Kasey's practice focuses on a broad range of complex, commercial litigation matters. As part of Kasey's practice, he has advised clients on environmental and real property matters such as zoning disputes, governmental takings, riparian rights, comprehensive plan amendments, mining permits, landmark/historic designations, impact fees, and regulatory compliance. Prior to his legal career, Kasey served on active duty as an Officer with the United States Coast Guard.