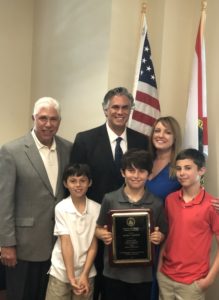 Tampa partner Mark Rankin was selected as the 2019 recipient of the Marcelino "Bubba" Huerta III Award for Professionalism and Pro Bono Service.
The award is presented annually by the Criminal Law Section of the Hillsborough County Bar Association to an attorney who exhibits the professional practice, dedication to pro bono service, and diligent work in the pursuit of equal justice that made Bubba a remarkable lawyer. The recipient of the award is selected by a committee consisting of local, state, and federal criminal practitioners.
Mark was presented with the award by Shutts partner Eric Adams at a luncheon held on February 22 at the Chester H. Ferguson Law Center in Tampa.
About Mark P. Rankin
Mark Rankin is a partner in the Tampa office of Shutts & Bowen LLP, where he leads the White Collar Criminal Defense and Governmental Investigations Practice Group. Mark concentrates his practice in the area of white collar criminal defense representing doctors, pharmacists, realtors, accountants, business owners, other professional individuals, and business entities at all stages of the criminal justice process, including subpoenas, state and federal grand jury investigations, trial, and appeal.