Miami Mayor Tomas Regalado and the city's International Council hosted its annual Holiday Reception in honor of the Consular Corps on Wednesday, December 9th at the Miami Dade College Freedom Tower. The event acknowledges the city's international commitment to create jobs locally by investing and trading globally.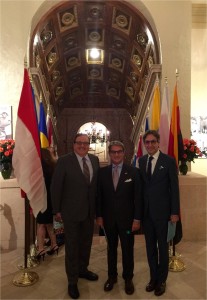 Arthur J. Furia, a partner in the Miami office of Shutts & Bowen, attended the event along with clients Guido Balocco and Edward Benier of Wedward Beiner, a luxury eyewar retailer.
About the Mayor's International Council
The Mayor's International Council was created to (1) plan and implement the City's International Trade promotion policies for the purposes of stimulating commercial and residential development and expanding the City's tax base through the promotion of foreign trade and local investment in accordance with the bylaws adopted by the Council; (2) serve in an advisory capacity for the City of Miami Sister Cities Program to plan, implement, and oversee the City's international, professional, and technical educational and cultural exchanges, promotion and policies to create and stimulate friendly and meaningful relationships; and (3) coordinate protocol requirements for national and international events and dignitaries pursuant to the standards and practices adopted by the Council.
About Arthur J. Furia
Arthur J. Furia's areas of legal practice include corporate and business law; domestic and international business planning; mergers and acquisitions; partnership formation and joint ventures; venture and mezzanine equity raising and distribution and licensing and corporate governance for not-for-profit organizations.
About Shutts & Bowen
Shutts & Bowen, established in 1910, is a full-service business law firm with more than 270 lawyers across seven offices located in Ft. Lauderdale, Miami, Orlando, Sarasota, Tallahassee, Tampa, and West Palm Beach.