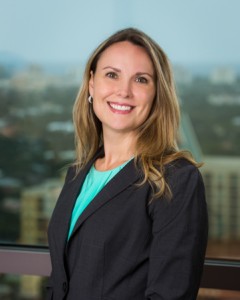 Rachel H. LeBlanc has been selected by the Daily Business Review as one of the Top 40 Under 40. Ms. LeBlanc is a partner in Shutts & Bowen's Fort Lauderdale office and a member of the Business Litigation Practice Group.
Ms. LeBlanc has represented numerous parents of children who were abducted from their home countries and brought to Florida in violation of the Hague Convention on the Civil Aspects of International Child Abduction. She has represented parents in Venezuela, Mexico, the Dominican Republic, Canada, and several other nations in successfully returning children to their home countries.
According to the United States Department of State Office of Children's Issues, she is one of South Florida's most experienced lawyers regarding the Hague Convention, devoting at least 113 pro bono hours a year since 2008 to these cases.
As the youngest partner in Shutts & Bowen's Fort Lauderdale office, Ms. LeBlanc litigates complex business disputes, and has successfully defeated class certification in products liability and insurance cases where her clients faced billions of dollars in potential exposure. She has also successfully tried breach of contract, personal injury, and franchise dispute cases during her time at the firm.
Ms. LeBlanc serves as vice chair of the Board of Trustees for The Fort Lauderdale Children's Theatre. For five years, she has also been a "Big Sister" through Big Brothers and Big Sisters.
Read more: http://www.dailybusinessreview.com/id=1202664350275/Review-To-Honor-Top-40-Lawyers-Under-40#ixzz38QON7DkB