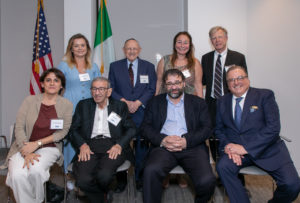 MIAMI, FL— The law firm Shutts & Bowen was recently honored to host renowned Italian pianist and composer Maestro Francesco Lotoro, who has dedicated his career to bringing life to music of the Holocaust. Maestro Lotoro traveled from Italy to meet for the first time with one of the last surviving musicians of the Holocaust, 95 year old Saul Dreier.
The firm, in an effort spearheaded by partner Arthur Furia, held the reception and presentation program to welcome the Maestro to Florida and bring awareness to his efforts and work. The event was co-sponsored by the Miami-Dade College Foundation and the STET Institute of Concentrationary Musical Literature based in Barletta, Puglia, Italy.
"Once I learned about the great work of Maestro Lotoro and his desire to uncover and restore priceless pieces of work composed during one of the most tragic times in history, I knew we would want to help facilitate his meeting with Saul Dreier," said Furia, who has been extremely active in the global Italian nusinesses and cultural communities during his entire professional life. "The archive of concentrationary music put together by Francesco Lotoro in more than 30 years has become monumental, but the collection has not yet been completed because there is still a lot of music to discover in the homes of survivor musicians or their descendants – an undeniable heritage waiting for be recovered and promoted. Francesco has hundreds of clues to follow, but every wasted minute reduces the chances to find new music and return it to human collective memory."
Over his entire career, Maestro Lotoro has researched music composed in the concentration camps, uncovering nearly 8,000 pieces of work and reconstructing nearly 400 of those pieces. The work of Maestro Lotoro was recently featured in a 2 part special segment of CBS' 60 Minutes. Its producer of the piece, Rome-based Sabina Castelfranco, moderated the presentation program with Furia.
Dreier, who is 95 years old, is a Holocaust Survivor who worked in Oskar Schindler's Factory and survived three concentration camps before his release and coincidentally brought to Barletta, Italy, the home city of Maestro Lotoro. He is the founder and creator of the Holocaust Survivor Band, a youth ensemble band he created to honor the memory of the victims and survivors.
Also participating in the presentation program was Rev. Dr. Patrick O'Neill, Archdiocese of Miami; Rabbi Solomon Schiff, Miami Jewish Federation; Bowman Brown, Chairman of Shutts & Bowen; and Donatella Altieri, the Foundation Institute of Concentrationary Musical Literature. Community leaders from a variety of organizations also attended the reception.
Earlier in the day, Maestro Lotoro gave a special Master Class for students of the New World School of the Arts in the auditorium of the Miami Dade Colleges Wolfson Campus.
To view photos from the event, please click here.
About Shutts & Bowen LLP
Shutts & Bowen, established in 1910, is a full-service business law firm with more than 300 lawyers in offices in Ft. Lauderdale, Jacksonville, Miami, Orlando, Sarasota, Tallahassee, Tampa, and West Palm Beach. Learn more about Shutts & Bowen at www.shutts.com.