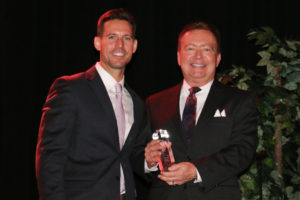 Shutts & Bowen's Frederick O'Malley was honored as the top COO in Miami-Dade at South Florida Business & Wealth's Apogee Awards on Wednesday, November 14. The event took place at Gulfstream Park in Hallandale Beach, Fla.
The Apogee Awards is a unique awards program created by South Florida Business & Wealth (SFBW) magazine to recognize distinguished leaders who hold positions in the C-Suite of companies. The event honored a small group of individuals in South Florida whose dedication to their occupation and to their industries and communities deserves particular recognition.
Fred was joined at the event by Brendan Barry, Steven Ebner, Martha Rabbitt, Francis Rodriguez, Peter Abreu, Adam Miller, Juan Pareja and Cathy Zaccardo.
About Frederick B. O'Malley
Frederick O'Malley is Shutts & Bowen's Chief Operating Officer and is responsible for all of its financial and administrative functions. Fred has more than 25 years of executive legal management experience, previously serving as Chief Operating Officer, Executive Director, Chief Financial Officer and combinations of those roles with medium to large sized law firms in the Washington DC/Baltimore area prior to relocating to South Florida.
About South Florida Business and Wealth
South Florida Business & Wealth, a publication of Lifestyle Media Group, is the leading provider and trusted resource for business and economic information affecting the region. Each month, SFBW is direct mailed to 30,000 key decision-makers and influencers including business owners, presidents, C-level executives and senior management. SFBW is uniquely positioned to reach this audience of loyal, well-educated, affluent and influential readers – many of whom are outstanding candidates for the Apogee Awards.