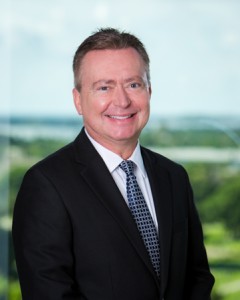 On Wednesday, May 9, Shutts & Bowen Chief Operating Officer Frederick B. O'Malley participated as a panelist in a law firm forum organized by CBRE. The event brought together local and national leaders to discuss how workplace strategy trends will transform law firm culture, profitability, and talent retention.
Representatives from several firms discussed how their real estate is evolving, including office size and conference areas.
Fred discussed how Shutts considered a universal office size but ultimately decided on two sizes – one for partners and one for associates. He also discussed how the firm decreased the space per attorney and repurposed the remaining square footage as conference and multipurpose space when it moved to the Southeast Financial Center from the Miami Center in 2015.
To read the full article about the event from the Daily Business Review, please click here.
About Frederick B. O'Malley
Frederick O'Malley is Shutts & Bowen's Chief Operating Officer and is responsible for all of its financial and administrative functions. Fred has more than 25 years of executive legal management experience, previously serving as Chief Operating Officer, Executive Director, Chief Financial Officer and combinations of those roles with medium to large sized law firms in the Washington DC/Baltimore area prior to relocating to South Florida.