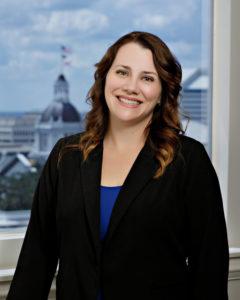 Shutts & Bowen congratulates Tallahassee partner Rachel Nordby on her recent appointment to the First District Court of Appeal (DCA) by Florida Governor Ron DeSantis.
The First District is one of five intermediate appellate courts in Florida. The court's jurisdiction spans six judicial circuits in North Florida, including 32 of Florida's 67 counties.
Shutts Firmwide Managing Partner Michael J. (Micky) Grindstaff said Nordby would be missed, but she will be an excellent addition to the bench.
"We congratulate Rachel for this well-deserved appointment, which speaks volumes about her legal acumen and professional excellence. We wish her well."
Jason Gonzalez, Managing Partner of Shutts' Tallahassee office and Chairman of the firm's Appellate Practice Group, agreed.
"Rachel is a tireless worker who loves the law and has been recognized by her peers and appellate judges as one of the top appellate lawyers in Florida," he said. "Her experience and knowledge will benefit Floridians greatly."
Before joining Shutts, Rachel served as the Senior Deputy Solicitor General for Florida Attorney General Pam Bondi and as a judicial law clerk at the First DCA for Judge Bradford Thomas.
To read the full article, please click here.
About Shutts & Bowen LLP
Shutts & Bowen, established in 1910, is a full-service business law firm with approximately 300 lawyers in offices in Ft. Lauderdale, Jacksonville, Miami, Orlando, Sarasota, Tallahassee, Tampa, and West Palm Beach. Learn more about Shutts & Bowen at www.shutts.com.