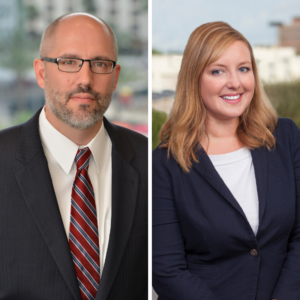 Orlando partner James Timko and Tampa attorney Lauren Stricker represented parties in two cases listed as the top 10 bankruptcy cases in the Tampa Bay area in 2018. The report, provided by American City Business Leads, combined information collected from November 1, 2017, to November 30, 2018, for the Tampa area.
Jim and Lauren represented the Official Committee of Unsecured Creditors in their case against C & D Fruit and Vegetable Co. Inc. Among other things, the team challenged a sale of assets resulting in a new auction and an increase of the asset price by approximately 30%. This resulted in more than $600,000 of additional monies being available to the estate.
Jim and Lauren also represented a creditor in the case against Florida Dirt Source, LLC. The representation involved the filing of motions for relief from the automatic stay on behalf of a mechanic's lien holder who was owed significant sums relating to work performed on the debtor's assets.
To view the full list of cases as reported by the Tampa Bay Business Journal, please click here.
About James A. Timko
James A. Timko is a partner in the Orlando office of Shutts & Bowen, where he is a member of the Creditors' Rights/Bankruptcy Practice Group and a business litigator. James has received Martindale-Hubbell's highest rating as an attorney whose practice involves distressed assets, bankruptcy and commercial litigation. He's also a certified circuit civil mediator. James represents creditors, debtors, secured, lenders, mortgage companies, landlords, franchisors, bankruptcy trustees and other business enterprises in chapter 7 and chapter 11 bankruptcy cases and in assignment for the benefit of creditors cases.
About Lauren Stricker
Lauren L. Stricker is an associate in the Tampa office of Shutts & Bowen LLP, where she is a member of the firm's Creditors' Rights/Bankruptcy and Business Litigation Practice Groups. Lauren represents individual and corporate clients in bankruptcy matters, civil and criminal litigation, and government investigations. Her practice focuses on financial recovery, fraud, and financial crime cases.