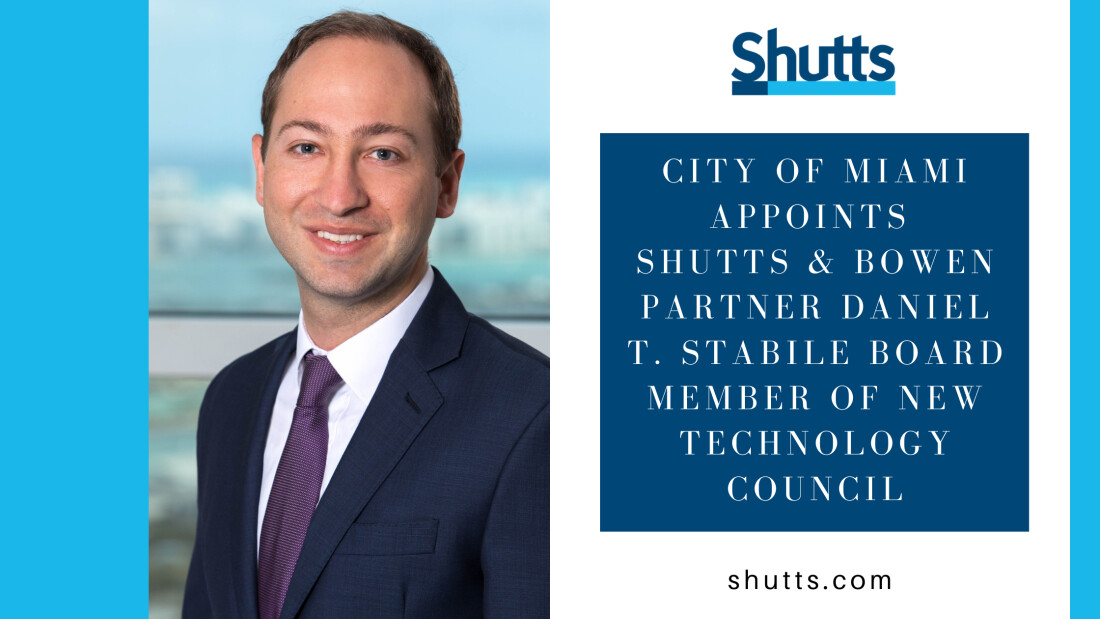 Daniel T. Stabile, a partner in the Miami office of Shutts & Bowen, has been named to the Miami Technology Council as a Board Member. The Technology Council will aim to help stimulate and develop high-tech industries and employment opportunities in Miami.
The Council, which consists of 11 members, will offer recommendations to the government concerning incentives, investments, jobs and services that will further attract technology-centered enterprises to South Florida.
"This is a monumental time for Miami as it is garnering attention from all over the country during this new movement," said Stabile. "The Technology Council should act as a formalized and inclusive effort to further engage stakeholders in Miami's growing tech ecosystem."
The Council will encourage participation from the local community in their effort to support national and international technology promotion and technology-based economic development within the city.
Working directly with the office of the Mayor, the Council will make recommendations regarding technology-based development, capital projects, prepare annual budgets and sponsor conferences to educate the community and stakeholders on new developments in the city.
Stabile brings to the position a strong technology background as a leading attorney in the distributed ledger and digital asset spaces, representing a wide range of businesses in the blockchain space as well as traditional financial institutions. In addition to his legal counsel Daniel is the lead author of "Digital Assets and Blockchain Technology: US Law and Regulation," a first-of-its-kind legal textbook designed for law and other graduate-level students.
Additionally, Stabile teaches a course on blockchain and digital asset regulation at the University of Miami Law School and speaks regularly on digital currency regulation in various forums domestically and aboard. He also advises government officials regarding digital asset technology and regulation.
About Shutts & Bowen LLP
Shutts & Bowen, established in 1910, is a full-service business law firm with approximately 300 lawyers in offices in Ft. Lauderdale, Jacksonville, Miami, Orlando, Sarasota, Tallahassee, Tampa, and West Palm Beach. Learn more about Shutts & Bowen at www.shutts.com.