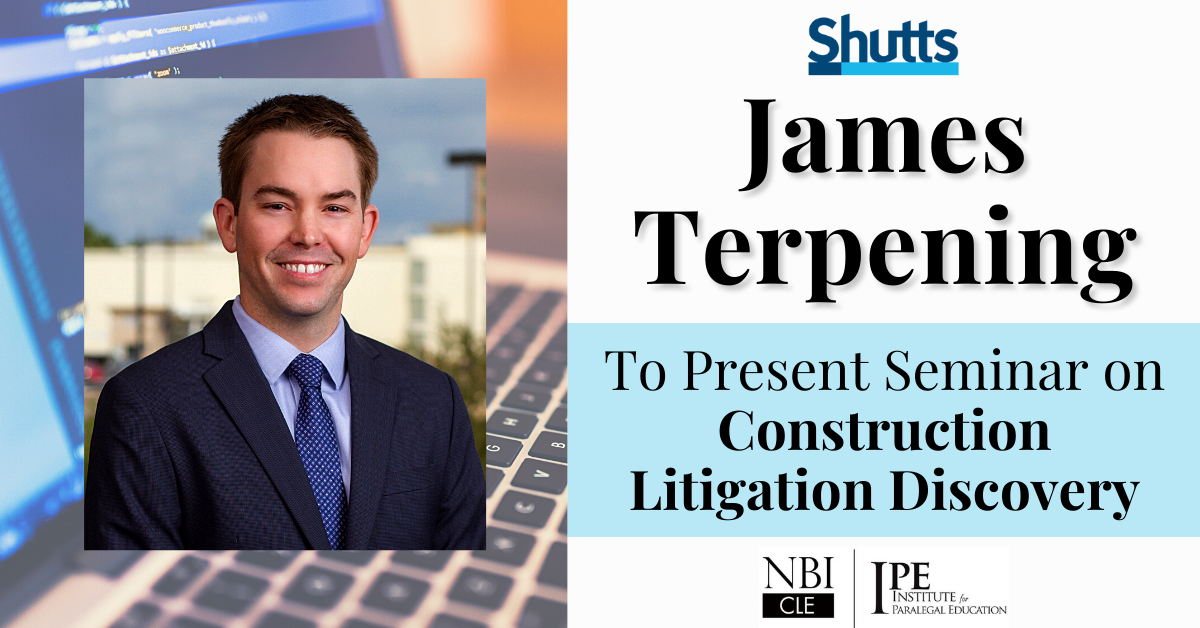 James P. Terpening, a partner in the Tampa office of Shutts & Bowen LLP, will serve as a faculty member for the Institute for Paralegal Education (IPE) for the upcoming seminar, "Discovery in Construction Litigation for Paralegals."
The seminar will take place via live video webinar on Thursday, October 7, 2021 from 2-3 PM. During the intermediate level program, James will present to paralegals, legal technicians, assistants and support staff discussing discovery best practices for construction cases. To help attendees build their discovery skills, he will discuss practical techniques for e-discovery, what to look for in project-related documents and contracts, deposition preparation and summaries, as well as a review of sample discovery requests to be further utilized by attendees in the future.
The Institute for Paralegal Education (IPE), with parent company National Business Institute (NBI), has provided continuing education courses and career resources for legal assistants, paralegals, and legal technicians for 20 years. IPE offers practical training in numerous areas of law as well as general case management, trial preparation and ethics.
To learn more about the seminar, click here.
About James P. Terpening
James P. Terpening III is a partner in the Tampa office of Shutts & Bowen LLP, where he is a member of the Construction Litigation Practice Group. James is Board Certified by The Florida Bar in Construction Law. James represents owners, developers, contractors, and design professionals in disputes involving, among other things, payment, construction defect, construction lien, insurance coverage, and bond issues. In addition to jury and bench trial experience, James has completed Florida court-appointed arbitrator training and served as an arbitrator in a construction dispute and successfully represented construction clients in arbitrations. Beyond representation of clients in disputed matters, James advises clients on avoiding litigation and resolving matters through alternative methods of resolution, including negotiation, mediation, and arbitration.
Practice Areas
Industries
Offices