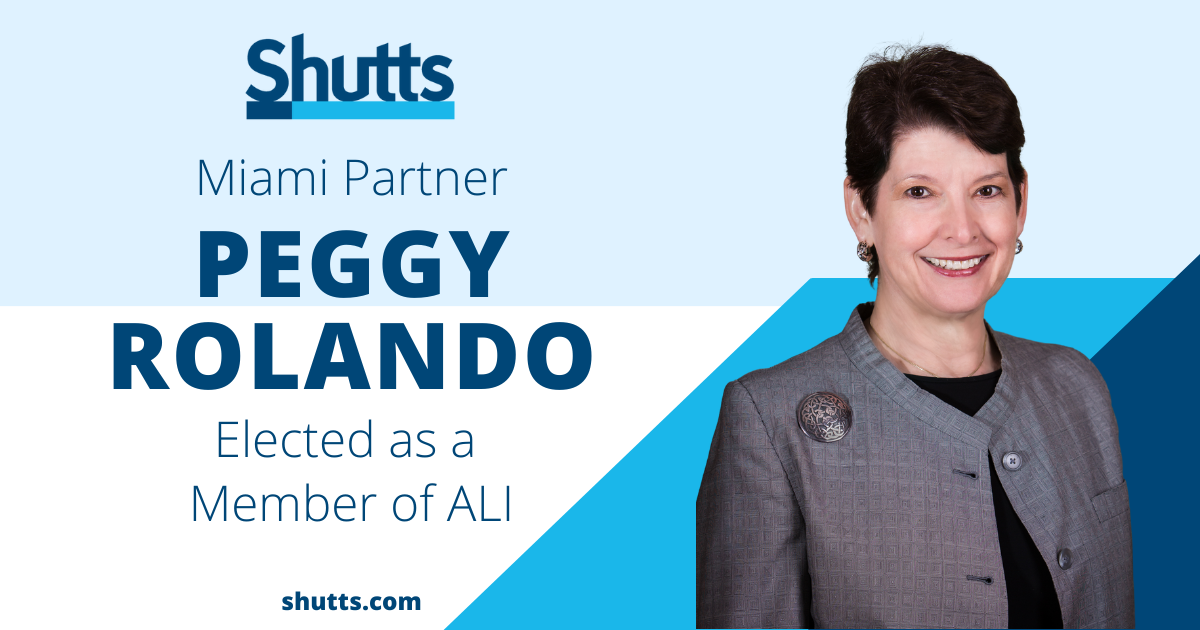 The American Law Institute has elected new members who will bring their expertise to ALI's work of clarifying the law through Restatements, Principles, and Model Codes. Among them is Peggy Rolando, a real estate partner in the Miami office of Shutts & Bowen LLP who is Florida Bar Board Certified in Real Estate Law and in Condominium and Planned Development Law.
Election to the ALI is prestigious and is limited to attorneys who have demonstrated excellence in the law, are of high character, will contribute to the work of the Institute and are committed to its mission. ALI is the leading independent organization in the United States producing scholarly work to clarify, modernize, and otherwise improve the law. ALI drafts, discusses, revises, and publishes Restatements of the Law, Model Codes, and Principles of Law that are enormously influential in the courts and legislatures, as well as in legal scholarship and education.
"I am extremely honored to join this distinguished group of legal practitioners who are dedicated to ALI's mission to clarify and simplify the law and improve the administration of justice," Rolando said. "The work of the Institute is vital to maintaining our legal system as an object of admiration throughout the world."
By participating in the Institute's work, its distinguished members have the opportunity to influence the development of the law in both existing and emerging areas, to work with other eminent lawyers, judges, and academics, to give back to a profession to which they are deeply dedicated, and to contribute to the public good.
Peggy is a member of the American College of Real Estate Lawyers (ACREL) and is a past chair of the Real Property, Probate and Trust Law Section of The Florida Bar. She is also a long time active member of The Florida Bar Committee on Condominiums and Planned Developments. Peggy also participates as a member of the Florida Bar's Real Property, Probate and Trust Law Section's advisory task force to review the state's condominium law and make recommendations to legislators, the governor and other officials following the 2021 collapse of the condominium in Surfside, Fla.
About Shutts & Bowen LLP
Established in 1910, Shutts & Bowen is a full-service business law firm with approximately 300 lawyers with offices in Fort Lauderdale, Jacksonville, Miami, Orlando, Sarasota, Tallahassee, Tampa and West Palm Beach. Learn more about Shutts & Bowen at www.shutts.com.