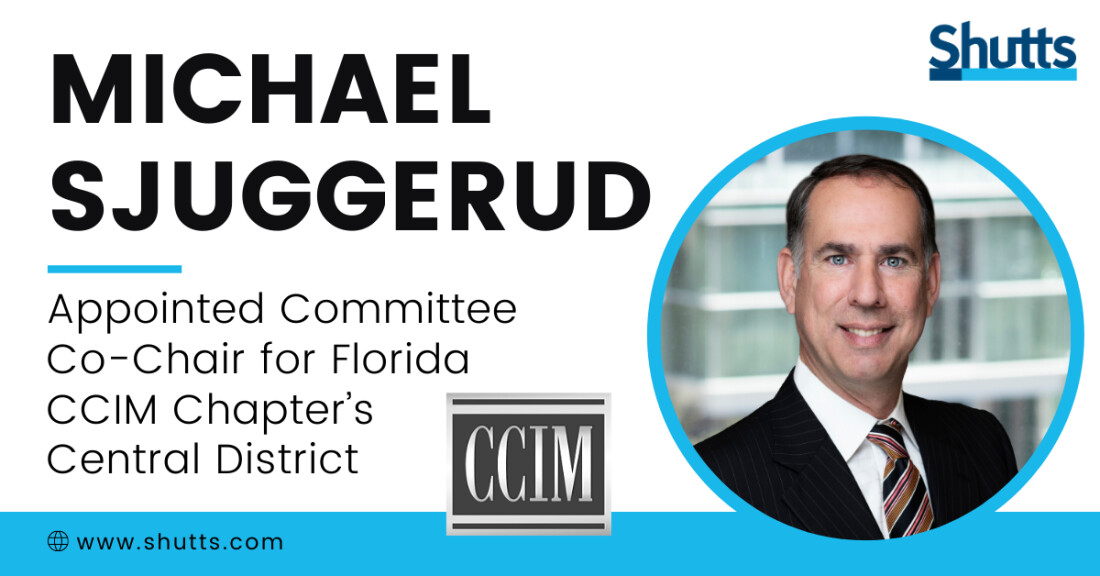 Michael A. Sjuggerud, a partner in Shutts & Bowen LLP's Orlando office, was invited to serve as the 2021 Co-Chair of Special Events for the Florida CCIM Chapter's Central District.
In his committee role, Michael will help the Florida CCIM Chapter pursue their mission of providing the highest quality marketing and networking opportunities, services, and educational programming to their members in Volusia, Seminole, Orange, Brevard, Osceola, Lake, Sumter and Marion counties. Michael regularly presents and speaks on real estate topics and has also written articles related to commercial transactions and Florida real property issues. A former Florida CCIM Chapter speaker, he finds himself well prepared to serve the organization, which conducts meetings virtually on the second Friday of each month at 9:00 a.m.
The CCIM Institute, an affiliate of the National Association of Realtors, confers the Certified Commercial Investment Member designation (CCIM) to commercial real estate professionals who have extensive training and industry experience and complete a rigorous study program. According to the organization, the Florida Chapter CCIM is the largest CCIM Chapter in the United States, with the Central District (representing approximately 190 Central Florida members) being the largest of the eight districts in the Florida Chapter.
‌
About Michael A. Sjuggerud
Michael A. Sjuggerud is a partner in the Orlando office of Shutts & Bowen LLP, where he is a member of the Real Estate Practice Group. He is Board Certified in Real Estate Law by The Florida Bar. Michael advises financial institutions, businesses, local governments, and others on transactions involving the sale, purchase, financing, leasing, development, and use of real property. In connection with his real property experience, he regularly works on title matters - including title issuance, title review and title issue resolution with respect to a wide variety of property classes. Michael also advises clients on commercial transactions involving the sale, purchase, financing, and use of personal property. Additionally, Michael's varied background has given him experience in negotiating cross-border transactions, including the preparation of complex contracts for domestic and foreign companies.
Practice Areas
Industries
Offices