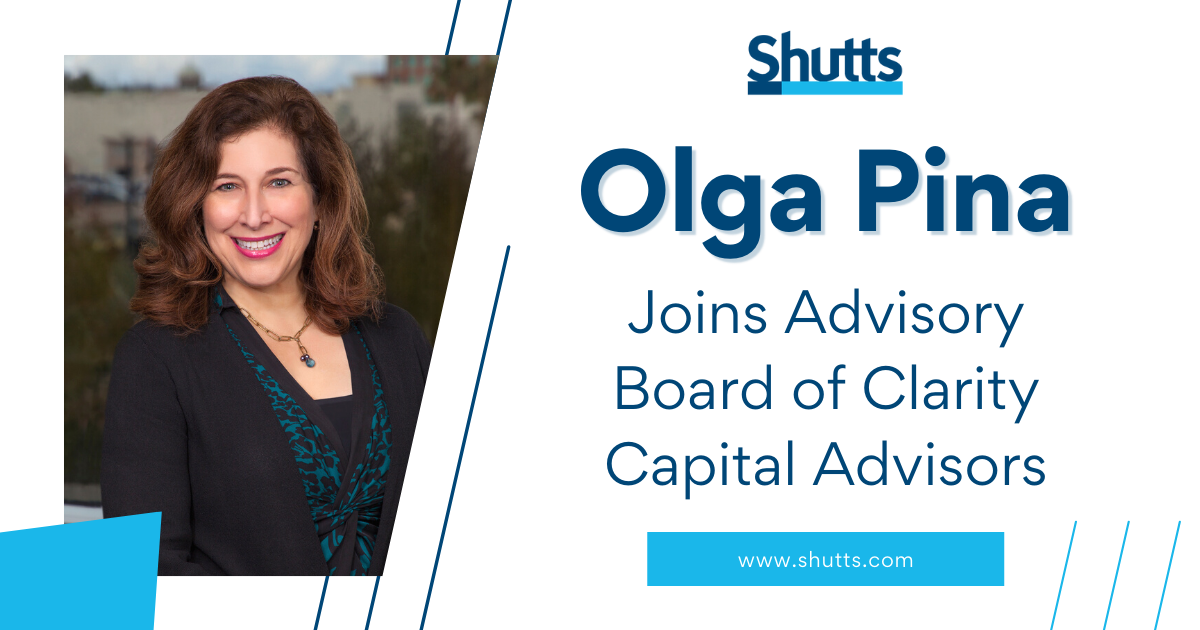 Olga Pina, a partner in Shutts & Bowen LLP's Tampa office, recently joined the Advisory Board of Clarity Capital Advisors, providing strategic counsel in the areas of exit planning and mergers and acquisitions.
As a member of Clarity Capital's Advisory Board, Olga will leverage her years of experience in international and corporate law, as well as mergers and acquisitions to provide strategic business solutions to small and medium sized businesses. In addition to her advisory role, Olga was also recently reappointed to the Central – North Florida District Export Council (DEC) by U.S. Secretary of Commerce, Gina Raimondo.
Clarity Capital Advisors, an Atlanta-based business advisory firm, maintains an experienced panel of professionals on their Advisory Board, including lawyers, wealth planners, accountants and investment bankers, to serve as a net of resources for businesses to rely on as they manage high growth or experience significant change.
About Olga M. Pina
Olga Pina is a partner in the Tampa office of Shutts & Bowen LLP, where she is a member of the Corporate Practice Group. Olga practices in the areas of corporate, mergers and acquisitions, securities, international business transactions and export compliance, including compliance with U.S. Treasury (OFAC) regulations relating to embargoed countries and customs seizures. She has extensive experience in corporate transactions, including cross-border joint ventures and securities issues in Latin America. Olga is Martindale-Hubbell AV® rated attorney and has been named one of the Best Lawyers in America® since 2009 in corporate law. Olga serves as a member of the firm's Cuba Task Force. Olga has written and presented to various groups on legal issues in international transactions.