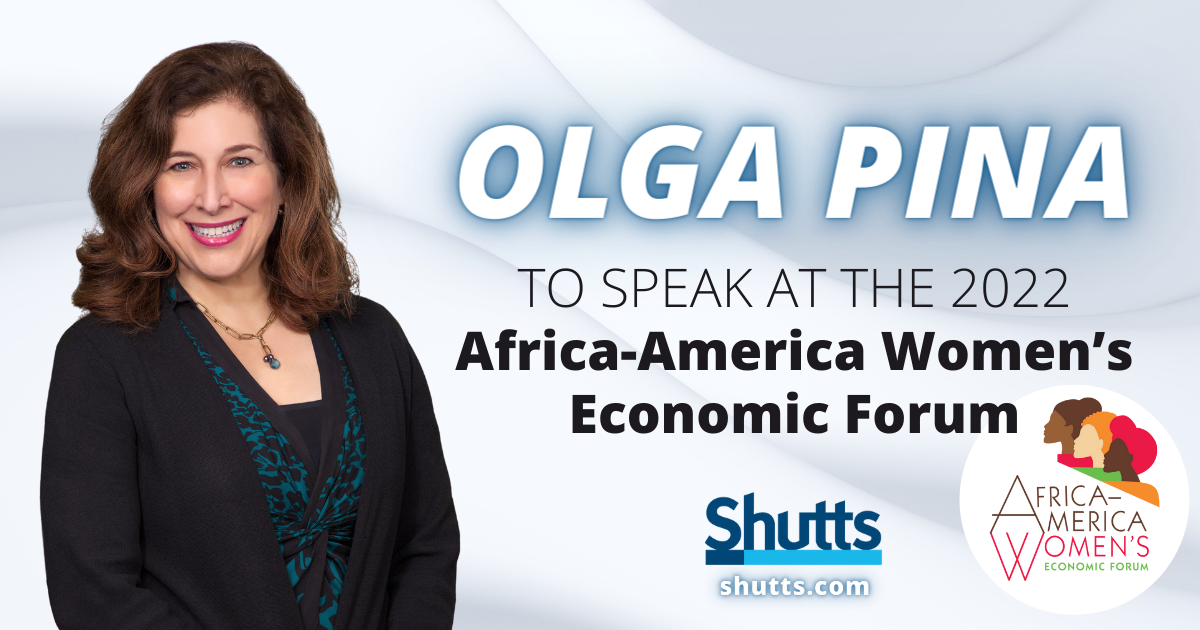 Olga Pina, a partner in Shutts & Bowen LLP's Tampa office, will be a featured panelist speaker at the 2022 Africa-America Women's Economic Forum & Trade Expo (AAWEF) Initiative on January 26.
Olga will participate in the "Placing Product on the Market: Legal & Regulatory Considerations" session, discussing important takeaways for the women entrepreneurs participating in the conference from America and nations in Africa. During the interactive session, Olga and her fellow speakers will cover various legal topics, including intellectual property, data privacy and other eCommerce concerns, protecting business interests with the right contract terms and more. Joining Olga during the session will be fellow panelist James Bledsoe, Director of the eCommerce Innovation Laboratory, as well as moderator Kenneth Mouradian, Director at Orlando U.S. Export Assistance Center.
The goal of the Africa-America Women's Economic Forum is to create viable, replicable business models which will assist in entrepreneurship development of women in Africa and African-American women in the United States, and to foster long-term, actionable networking opportunities among participants. To learn more about the 2022 event, click here.
About Olga M. Pina
Olga Pina is a partner in the Tampa office of Shutts & Bowen LLP, where she is a member of the Corporate Practice Group. Olga practices in the areas of corporate, securities, international business transactions and export compliance, including compliance with U.S. Treasury (OFAC) regulations relating to embargoed countries and customs seizures. She has extensive experience in corporate transactions, including cross-border joint ventures and securities issues in Latin America. Olga is Martindale-Hubbell AV® rated attorney and has been named one of the Best Lawyers in America® since 2009 in corporate law. Olga serves as a member of the firm's Cuba Task Force. Olga has written and presented to various groups on legal issues in international transactions.