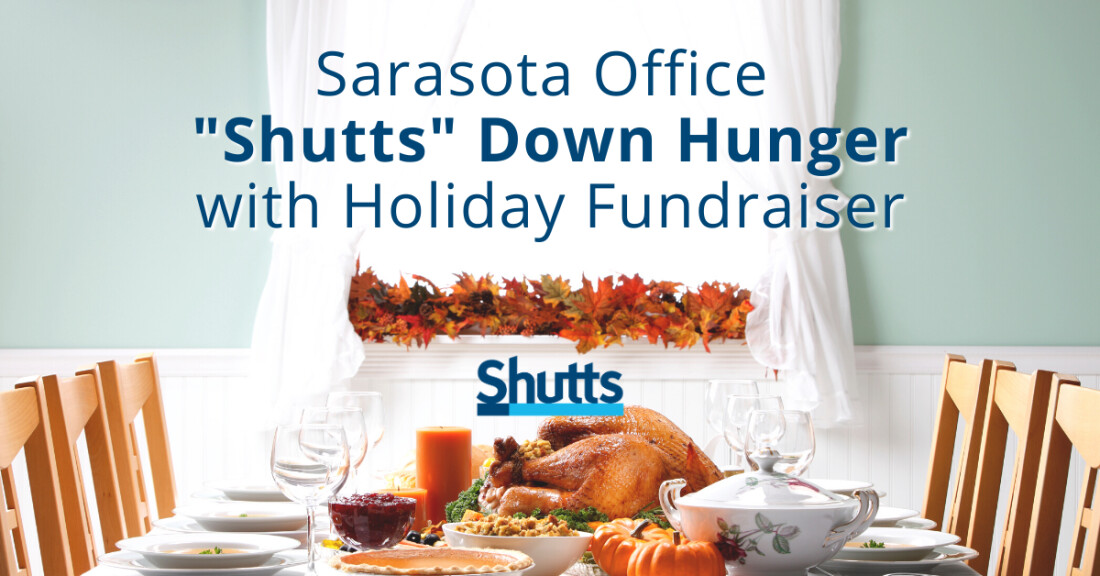 Shutts & Bowen LLP's Sarasota office recently participated in a virtual fundraiser with All Faiths Food Bank, surpassing their holiday meal fundraising goal to assist families financially impacted by the pandemic.
All Faiths Food Bank, which was recently recognized among the top four (out of 200) food banks in the nation by Feeding America, is helping families who cannot afford the simple joy of a holiday meal by gathering funds, instead of non-perishable food items, to assist those who need it most. The virtual push campaign for the food bank's holiday meal fundraiser ran from November 12 to November 20, 2020. The lack of food drives in the area due to COVID-19 inspired All Faiths Food Bank to purchase and distribute food in the safest way possible for the holidays, by rallying community supporters like Shutts to raise money directly for the food bank's contact-free cause.
The Shutts Sarasota office surpassed its overall goal, raising $750 to help the food bank provide 9,000 turkeys locally to children, families, seniors and veterans in need. All Faiths Food Bank is the only food bank and largest hunger relief organization in Sarasota and DeSoto counties. For more information visit allfaithsfoodbank.org.
About Shutts & Bowen LLP
Shutts & Bowen, established in 1910, is a full-service business law firm with approximately 300 lawyers in offices in Ft. Lauderdale, Jacksonville, Miami, Orlando, Sarasota, Tallahassee, Tampa, and West Palm Beach. Learn more about Shutts & Bowen at www.shutts.com.