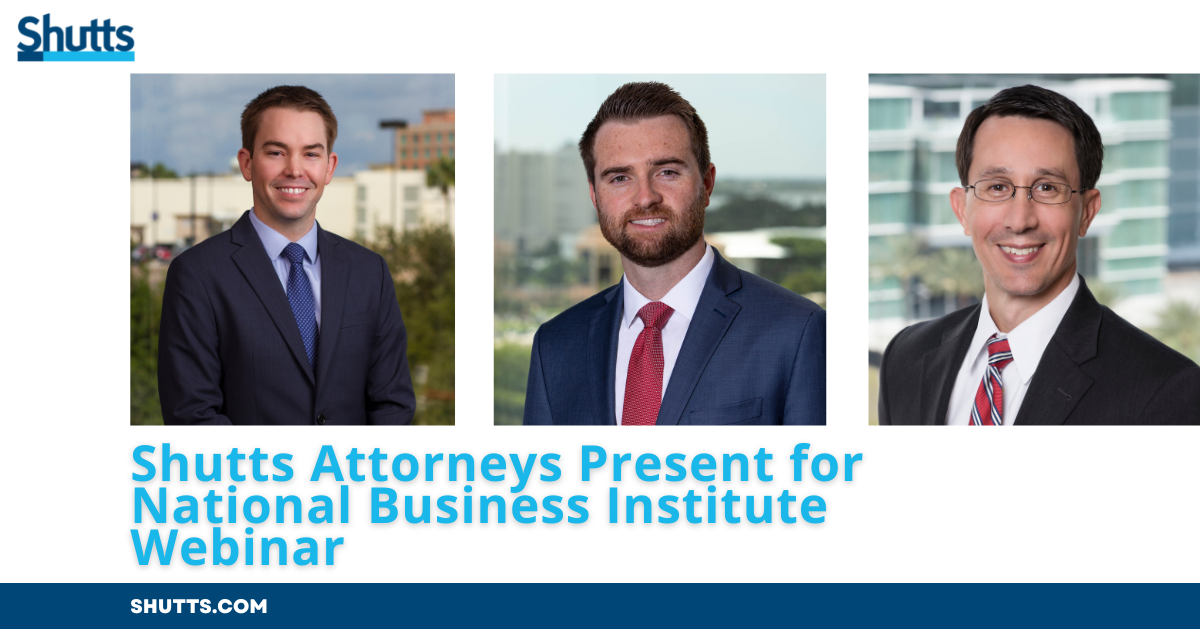 On June 9, Shutts & Bowen partners Sean Smith, Erik Szabo and James Terpening were guest presenters for the National Business Institute Webinar titled "Construction Law 101 for Paralegals: From Contracts to Litigation." The national webinar covered construction terminology, construction contracts, bid documentation and many more topics.
Tampa partner James Terpening presented on the topic "Your Guide to Building Applications, Inspection Reports, Permits, and More." Orlando partner Erik Szabo presented "Diving into Bid Documentation and Construction Contracts," which discussed ordering plans and specifications, how to read and interpret schedules, RFPs, bid submittals and key provisions in construction contracts. Additionally, West Palm Beach partner Sean Smith spoke on the topic of "Paralegal Ethics," which discussed avoiding conflicts of interest, unauthorized practice of law, confidentiality, privilege and billing.
Please click here to view webinar.
About Sean M. Smith
Sean Smith is a partner in the West Palm Beach Office of Shutts & Bowen, where he is a member of the Business Litigation Practice Group. Sean focuses his practice on the areas of business, real estate, and construction litigation. Sean has experience handling a variety of litigation matters in both state and federal court, including matters concerning the areas of real estate, commercial landlord/tenant, construction, and other complex business disputes.
About James P. Terpening III
James P. Terpening is a partner in the Tampa office of Shutts & Bowen LLP, where he is a member of the Construction Litigation Practice Group. James is Board Certified by The Florida Bar in Construction Law. James represents owners, developers, contractors, and design professionals in disputes involving, among other things, payment, construction defect, construction lien, insurance coverage, and bond issues. In addition to jury and bench trial experience, James has completed Florida court-appointed arbitrator and American Arbitration Association training and served as an arbitrator in a construction dispute and successfully represented construction clients in arbitrations.
About Erik F. Szabo
Erik F. Szabo is a partner in the Orlando office of Shutts & Bowen LLP, where he is a member of the Construction Litigation Practice Group. Erik is Florida Bar Board Certified in Construction Law. A Martindale-Hubbell AV ® Preeminent™ rated attorney, Erik has represented individuals and businesses throughout the Central Florida area in construction, real estate, commercial, business, and collections matters. His practice includes residential and commercial construction litigation; construction lien issues; payment and performance bond litigation; construction law issues; construction defect claims; delay claims; change order disputes; subcontractor law issues; contract negotiations; contract preparation, review and revision; contract disputes; commercial litigation; shareholder derivative actions; preparation of operating agreements, asset purchase agreements, non-solicitation agreements, restrictive covenants, employment agreements, and non-compete agreements; commercial real estate; and more. Erik has represented owners, contractors, engineers, architects, design professionals, subcontractors, sub-subcontractors, and material and equipment suppliers throughout the state.