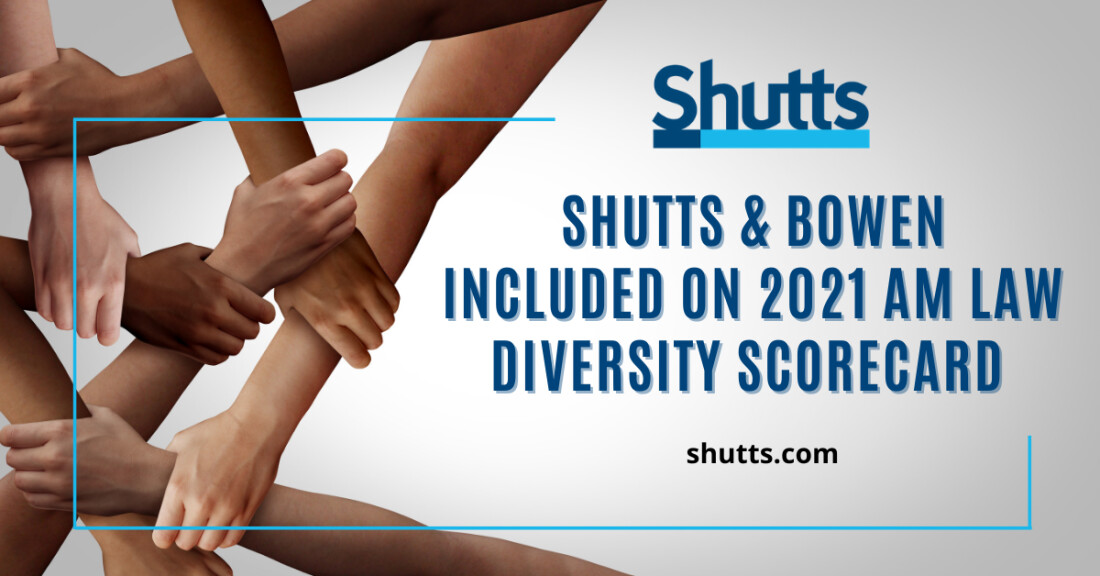 Shutts & Bowen LLP was nationally ranked No. 28, among 225 firms, on The American Lawyer's 2021 Diversity Scorecard.
The firm's 2021 Diversity Score is a 40.5, with 22.8% minority attorneys and 17.7% minority partners among its ranks. Diversity Scores are calculated by adding a firm's percentage of minority attorneys in U.S. offices to its percentage of minority partners in U.S. offices.
The Diversity Scorecard records the average number of full-time-equivalent minority attorneys—Asian-American, Black, Latino or Hispanic, Native American and self-described multiracial attorneys—at Am Law 200 and National Law Journal 250 law firms in the calendar year 2020. Lawyer counts are average full-time-equivalent figures.
The Diversity Scorecard measures total progress, as well as how the industry fares with Black, Asian American and Hispanic lawyers specifically. Shutts is ranked No. 4 for the highest percentage of Hispanic attorneys – 17.4%.
"We are proud of the culture of diversity that we are working towards as part of our mission at Shutts & Bowen," stated Aliette DelPozo Rodz, Chair of the firm's Diversity Committee and Focus on Women Group. "Diversity and representation remain a challenge for the legal industry as a whole, but we continue to make strides in the right direction for the benefit of our firm, clients and future generations."
Related News
About Shutts & Bowen LLP
Shutts & Bowen LLP, established in 1910, is a full-service business law firm with approximately 300 lawyers in offices in Fort Lauderdale, Jacksonville, Miami, Orlando, Sarasota, Tallahassee, Tampa and West Palm Beach. Learn more about Shutts & Bowen at www.shutts.com.