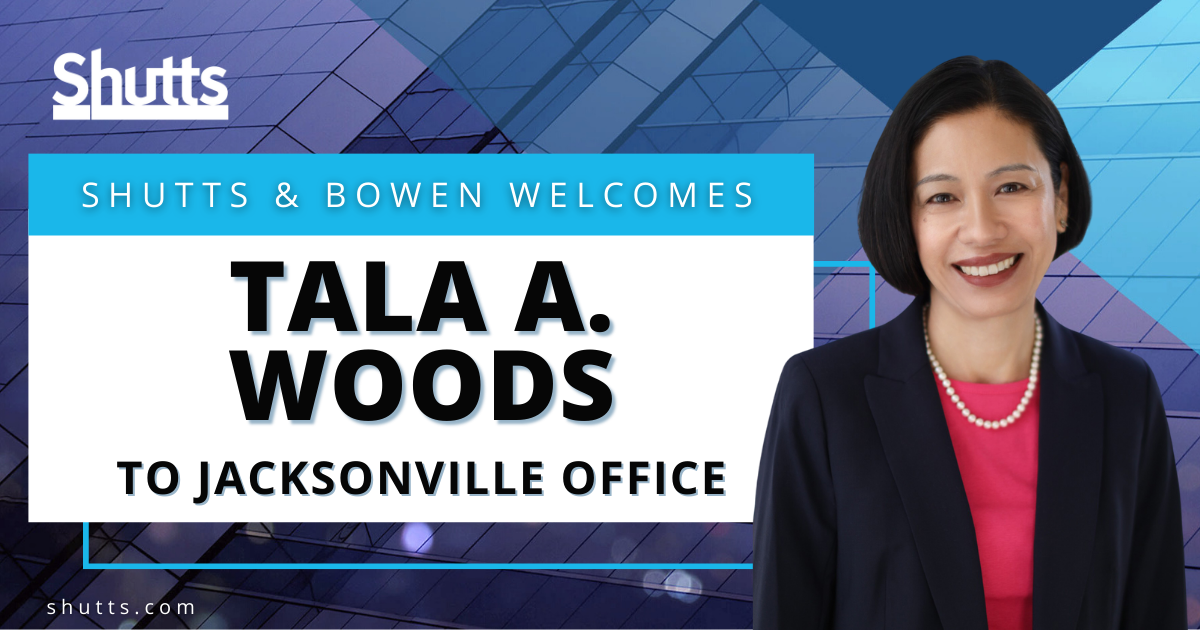 Shutts & Bowen LLP, a full-service business law firm, is pleased to announce that Tala A. Woods has joined its Jacksonville office as a partner in its Government Law/Public Finance practice group.
Woods focuses her practice on public finance and government law. She has experience in a variety of public finance transactions including governmental bonds and private activity bonds. She has represented issuers of certificates of participation, revenue bonds, refunding bonds, variable rate debt obligations and tax-exempt leasing. With regards to private activity issuances, Woods has acted as bond counsel and borrower's counsel in conduit issuances involving continuing care retirement communities, colleges, hospitals and other 501(c)3 organizations. Her clients have included school districts and other state and local governmental entities including, community development districts, cities, counties and public utilities. She has also represented non-governmental entities on tax-exempt transactions, including banks, underwriter syndicates and trustees.
"Tala's experience in governmental law, specifically the public finance aspect, will be the perfect complement to our existing practice," said H. Timothy Gillis, Jacksonville Office Managing Partner. "We are pleased to have an attorney of Tala's caliber join the Jacksonville office as we continue to grow and thrive."
Prior to her legal career, Woods worked as an investment portfolio manager for the trust company of a large national bank association. During her tenure there she earned her Chartered Financial Analyst designation. She is a member of the National Association of Bond Lawyers and Women of Public Finance.
She received both her undergraduate and juris doctor from the University of Florida.
###
About Shutts & Bowen LLP
Shutts & Bowen, established in 1910, is a full-service business law firm with approximately 300 lawyers in offices in Ft. Lauderdale, Jacksonville, Miami, Orlando, Sarasota, Tallahassee, Tampa, and West Palm Beach. Learn more about Shutts & Bowen at www.shutts.com.