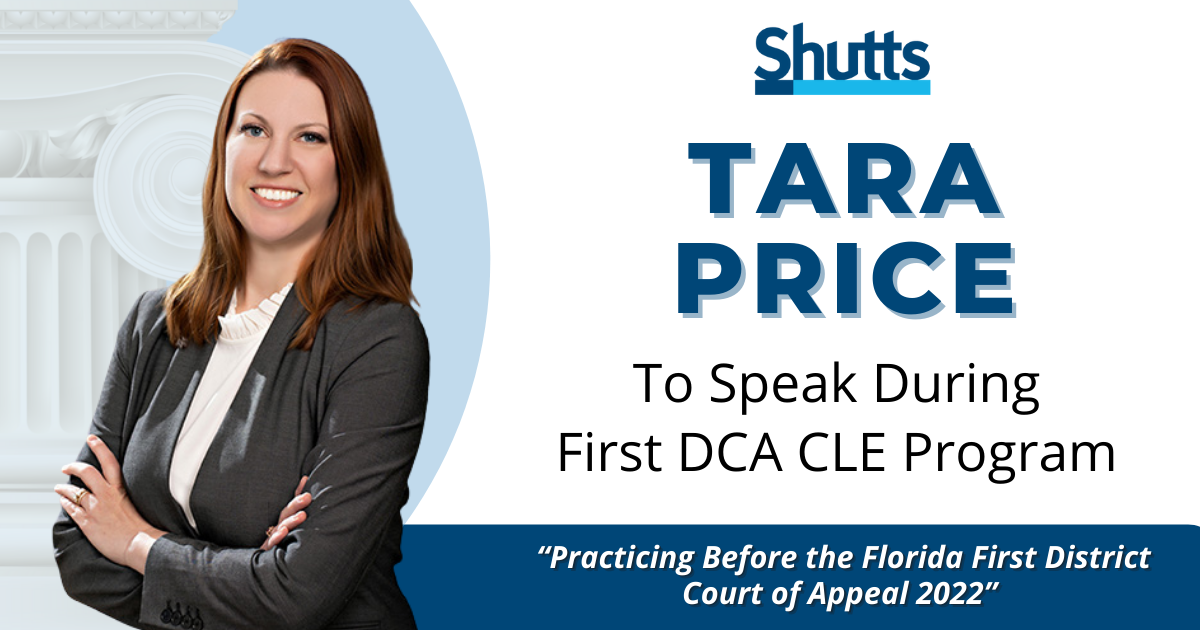 Tara R. Price, a partner in Shutts & Bowen LLP's Tallahassee office, will be a featured panelist speaker during a program for the Appellate Practice Section of The Florida Bar on Friday, April 8, 2022, at the Florida First District Court of Appeal (DCA) in Tallahassee.
The all-day, live CLE program, "Practicing Before the Florida First District Court of Appeal 2022," will help participants enhance their appellate practitioner skills. Attendees will have the opportunity to hear directly from current and former judges on the First DCA, court staff and appellate specialists, during how-to panel discussions covering a variety of insightful topics. Speaking during the final program of the day, Tara will join her co-panelists during the "Practice-Specific Trends and Recurring Issues" portion of the program.
For more information on this program, click here.
The Appellate Practice Section of The Florida Bar is a 1500-person organization devoted to promoting excellence in Florida's state and federal appellate courts. Its members include civil and criminal lawyers, plaintiff and defense lawyers, and others interested in the appellate process.
About Tara R. Price
Tara R. Price is a partner in the Tallahassee office of Shutts & Bowen LLP, where she is a member of the Appellate Practice Group. Tara focuses her practice on administrative, commercial, constitutional, and appellate litigation. She represents both public and private clients in complex disputes before Florida's Division of Administrative Hearings, the district courts of appeal, the Florida Supreme Court and the U.S. Court of Appeals for the Eleventh Circuit, assisting her clients as they navigate regulatory and political challenges. In addition to her experience in all aspects of appellate advocacy and procedure, Tara has extensive experience advising and litigating high-profile matters in federal district court on behalf of governmental clients, including the Florida Senate and Florida Secretary of State.