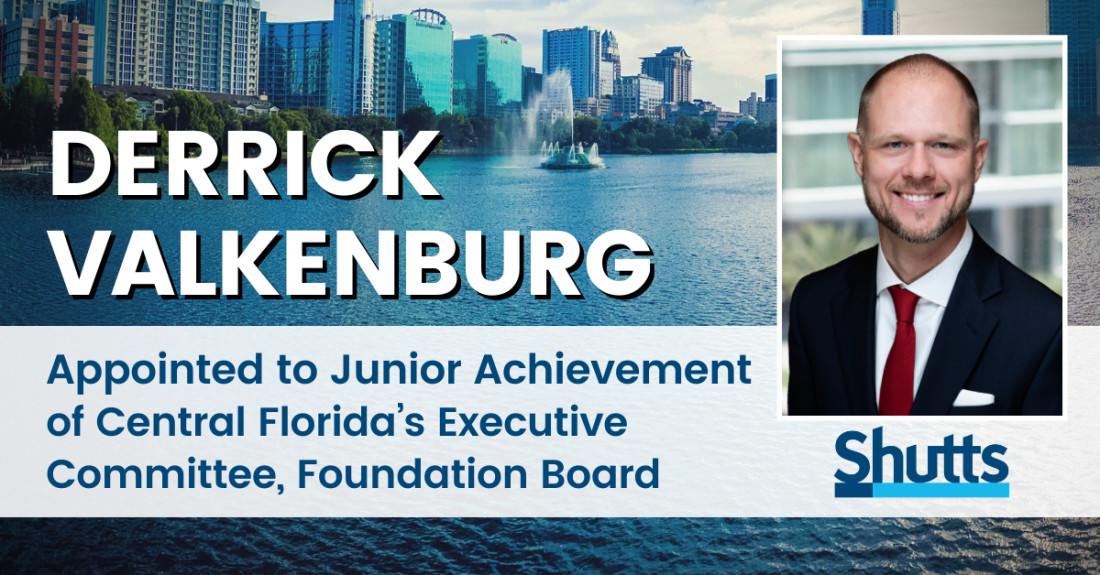 Derrick M. Valkenburg, a partner out of Shutts & Bowen LLP's Orlando office, was recently appointed to the Executive Council of Junior Achievement of Central Florida's (JACF) board of directors. Effective July 1, 2020, Derrick was also appointed to the board of directors of the Junior Achievement of Central Florida Foundation, Inc., which raises and maintains funds for JACF.
An active volunteer with JACF since 2016, Derrick has been a member of JACF's board of directors for the past three years. He was nominated to the Executive Committee by the President of JACF, Kathy Panter. In his new role, Derrick will continue to work with Junior Achievement's leadership in their mission to serve five counties in Central Florida and help the over 50,000 students participating in the organization's programs.
Junior Achievement (JA) is the nation's largest organization dedicated to giving young people the knowledge and skills they need to own their economic success, plan for their future, and make smart academic and economic choices. Since 1961, JA has helped thousands of students each year prepare for their futures through real-world educational programming. JACF provides educational programing founded on free enterprise and focuses on financial literacy, work readiness and entrepreneurship for students in kindergarten through 12th grades in Central Florida.
For more information on JACF's Board of Directors, click here.
About Derrick M. Valkenburg
Derrick M. Valkenburg is a partner in Shutts & Bowen LLP's Orlando office, where he is a member of the Construction Litigation Practice Group. Derrick's practice focuses on construction, commercial and real property litigation. He often represents developers, contractors, material suppliers, and design professionals in disputes involving construction defect claims, delay claims, construction lien issues, contract disputes, and insurance coverage issues. Derrick also represents clients in the areas of commercial landlord-tenant disputes, real property litigation, insurance litigation, employment law, probate and trust litigation, and e-discovery. He has represented clients through trial in both state and federal court actions.