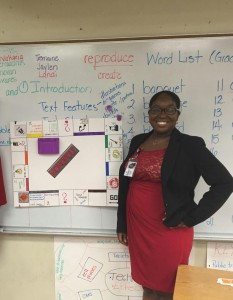 The attorneys that volunteer with the Gwen S. Cherry Black Women Lawyers Association give their time to help underprivileged girls through a monthly mentoring and empowering program at the Lillie C. Evans K-8 Center in Miami. Today, financial services attorney Jennifer Newton taught 20 seventh-grade girls money management through a Monopoly game. The mentoring program was highlighted earlier this year in this Miami Herald article along with other empowerment programs by women lawyers' groups.
About Jennifer D. Newton
Newton has a background in financial services, having served as counsel for the Consumer Financial Protection Bureau, the independent government agency responsible for consumer protection in the financial sector. Her practice focuses on consumer finance, banking regulatory, transactional and compliance matters. She volunteers her time with the Gwen S. Cherry Black Women Lawyer's Association and is a board member of the Miami Chapter of the National Congress of Black Women.