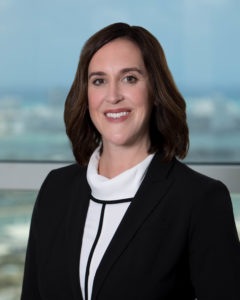 Miami associate Kristin Drecktrah Paz has been selected into the Florida Association for Women Lawyers' 2018 Class of Leaders in the Law. This designation is awarded annually to a select group of attorneys from around the state who have been nominated by their local FAWL chapters and meet the criteria for the recognition. To be named a Leader in the Law, an attorney must have earned professional respect, made a significant impact in her local community through legal services or volunteer activities, exemplified the qualities of a positive role model, and advanced the cause of women in the community.
Kristin was selected for this honor by the Miami-Dade Chapter of FAWL, where she currently serves as Newsletter Editor.
About Kristin Drecktrah Paz
Kristin Drecktrah Paz is an attorney in the Miami office of Shutts & Bowen, where she is a member of the International Arbitration and Litigation Practice Group. Kristin advocates for clients in their disputes in U.S. courts and before international and domestic arbitral tribunals.
About Shutts & Bowen LLP
Established in 1910, Shutts & Bowen is a full-service business law firm with more than 280 lawyers with offices in Fort Lauderdale, Jacksonville, Miami, Orlando, Sarasota, Tallahassee, Tampa and West Palm Beach. Learn more about Shutts & Bowen at www.shutts.com.