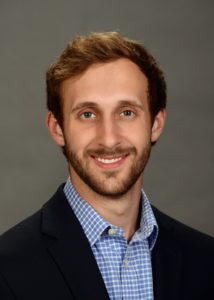 Our 2019 Summer Clerkship Program brought four law students to Shutts for an intellectually challenging and professionally gratifying experience. Nearing the end of the program, the students agreed to share a few of the highlights from their summer.
Jordan Castroverde joined us from Wake Forest University School of Law, where he is a member of the Latino Law Student Association and the Hispanic National Bar Association. Jordan's prior experience includes work for Bacardi USA and Family Support Services of North Florida.  He is expected to graduate in 2020.
Here is what Jordan had to say about his summer at Shutts.
Q1.  How did you decide to pursue this position?
Having grown up in Florida, I knew about Shutts and its great reputation. I was looking for a Florida law firm where I could gain experience in multiple practice areas and learn from experienced attorneys. Shutts ended up being the perfect fit.
Q2. What advice would you give to someone looking for a summer clerkship? What should they do to succeed in the position?
I would advise other law students to start applying early and to be patient. The legal market is very competitive but applicants should try to stay positive throughout the process. Upon starting a summer clerkship, it is important to work hard and be open minded about different practice areas. While many law students have an idea of what they want to do, it never hurts to try different things; at the end of the day, it'll make you a better lawyer.
Q3. What were the three most memorable experiences throughout your time here?
I had many memorable experiences throughout the summer, but the most memorable was attending a Miami Marlins game as part of a summer associate event. I was able to go down onto the field to change the bases between innings which was unforgettable and a lot of fun. Another interesting experience was attending an administrative hearing. I helped in the preparation for oral arguments, so it was great being able to attend the hearing. I had other memorable experiences visiting the other offices, which was a great way to meet attorneys in both formal and casual settings.
Q4. What were your expectations and have they been met (or exceeded)?
My expectations have undoubtedly been exceeded. Shutts has a great culture, and if I ever needed help with anything, there were always experienced attorneys who were willing to give me guidance. Every office I visited had a comfortable work environment where doors were generally left open and partners were happy to answer questions.
About Shutts & Bowen LLP
Shutts & Bowen, established in 1910, is a full-service business law firm with approximately 300 lawyers in offices in Ft. Lauderdale, Jacksonville, Miami, Orlando, Sarasota, Tallahassee, Tampa, and West Palm Beach. Learn more about Shutts & Bowen at www.shutts.com.