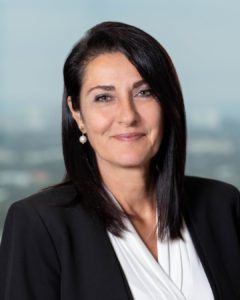 Fort Lauderdale Partner Sandra Krumbein was recently nominated for two awards through The Florida Bar's Board of Legal Specialization and Education (BLSE). As a Florida Bar Board Certified Condominium and Planned Development Law attorney, Sandra was nominated for the 2019 Award for Excellence in the Promotion of Board Certification, as well as the 2019 Justice Harry Lee Anstead Award for Florida Bar Board Certified Lawyer of the Year.
The BLSE's Excellence Award was created to advance the Supreme Court of Florida's vision for the Certification program, which serves as a means to assist consumers in identifying qualified legal specialists and encourage lawyers to aspire to excellence and professionalism. The nomination honors Sandra as it further singles her out as a leader among those Florida Bar members who are known as experts and specialists, distinguishing her for "excellence and creativity in advancing the public's knowledge of and appreciation for legal board certification."
Named for Justice Anstead, in recognition of his ongoing support for board certification and its value to the legal profession, the Board Certified Lawyer of the Year nomination recognizes Sandra among a distinguished group of board certified attorneys for her "exemplary professionalism, excellence, character and commitment to the Florida Bar's certification program and to the practice of law."
The BLSE will honor the award winners and the nominees during the Florida Bar Annual Convention on Thursday, June 27.
About Sandra E. Krumbein
Sandra Krumbein is a partner in the Fort Lauderdale office, where she is a member of the Real Estate Practice Group. A Martindale-Hubbell AV® rated attorney recognized as one of the Best Lawyers in America® in real estate law since 2013, Sandra regularly represents developers, lenders, bulk purchasers and sellers in all aspects of residential and commercial real estate transactions and development law. Sandra is Florida Bar Board Certified in Condominium and Planned Development Law. Sandra is a frequent lecturer on condominium development issues and has also served as a mentor for Nova Southeastern University law students through the Broad Fellowship Program. She also serves as an adjunct professor of condominium law at Nova Southeastern University law school and also serves as Co-Chair of the Advanced Condominium and Planned Development Certification Review Committee of the Real Property and Probate and Trust Law Section of The Florida Bar.