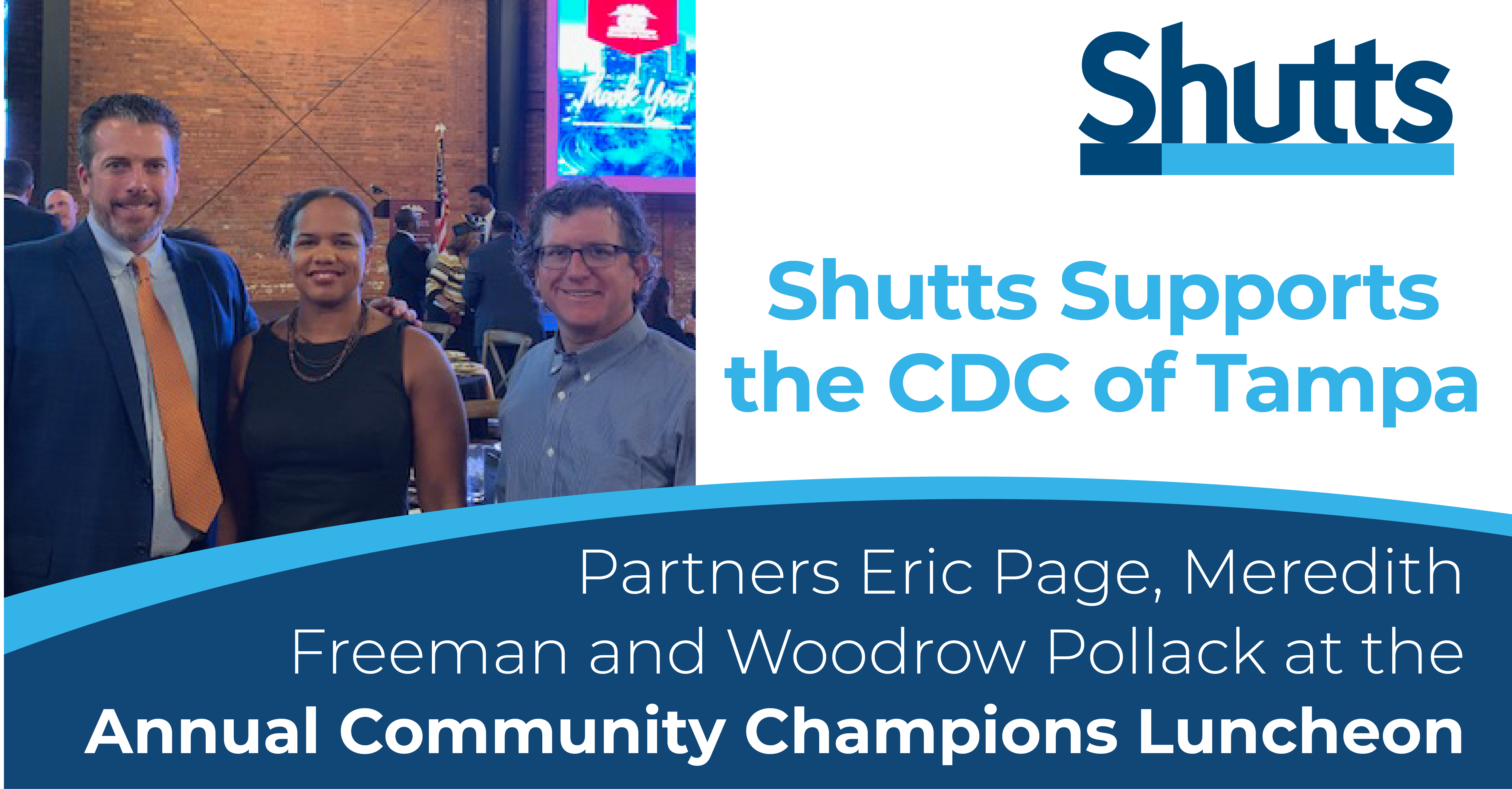 Shutts & Bowen LLP recently sponsored the 27th Annual Community Champions Luncheon of the Corporation to Develop Communities (CDC) of Tampa, held at Armature Works. This fundraising lunch brought together hundreds of corporate and community partners who support the programs and the economic opportunities created by the CDC of Tampa.
Shutts partners attending the event included CDC of Tampa Board Member At-Large, Eric Page, as well as Meredith Freeman and Woodrow Pollack. The luncheon was emceed by Rod Carter, an award-winning journalist and community volunteer, and included an appearance from Jameis Winston, quarterback for the Tampa Bay Buccaneers.
Founded in 1922 by Mrs. Chloe Coney, the Corporation to Develop Communities of Tampa, Inc. (CDC of Tampa) is a nonprofit organization working to alleviate poverty and physical deterioration within the community known as East Tampa, and promoting the vision of a thriving Tampa Bay region where "every community is equitable, diverse and engaged." The CDC of Tampa works to reduce disparities in the lives of Tampa residents, delivering programming in the areas of youth success, workforce development, housing counseling and financial capability, as well as residential and commercial real estate development.
About Eric Page
Eric E. Page is a partner in the Tampa office of Shutts & Bowen LLP, where he is a member of the Business Litigation Practice Group. Eric works with clients to address and solve their problems in and out of court. He regularly works with owners, managers and developers of property, tax consultants, asset managers, referral sources, in-house counsel and business decision-makers. His experience includes handling business disputes, trust and estate litigation, commercial leases, zoning, land use and administrative matters, title issues, constitutional and statutory property rights, contract disputes, appeals, tax deeds, and ad valorem tax disputes involving property assessments. Eric's goal is always to identify what each client needs, and to ensure that the firm provides legal services that efficiently reach that goal. Eric is active in the Hillsborough County Bar Association, and in the community at large as a Board Member and as the Real Estate Development Committee Chair of the Corporation to Develop Communities of Tampa.
About Woodrow Pollack
Woodrow "Woody" H. Pollack is a partner in the Tampa office of Shutts & Bowen, where he is a member of the Intellectual Property practice group. Woody is Board Certified in Intellectual Property Law by The Florida Bar. He focuses his practice on litigating complex patent, trademark, copyright and trade secret disputes. He litigates matters in state and federal courts as well as patent validity issues before the U.S. Patent Trial and Appeal Board. He also counsels clients extensively in developing patent and trademark portfolios. A Martindale-Hubbell AV® rated attorney, Woody has been regularly recognized in Best Lawyers in America, Florida Super Lawyers, and Florida Trend's Legal Elite. Woody also serves on the Executive Council of the Florida Bar Business Law Section. He has chaired its Intellectual Property Committee, and currently serves as the statewide chair of its Blockchain and Cryptocurrency Task Force.
About Meredith Freeman
Meredith A. Freeman is a partner in the Tampa office of Shutts & Bowen LLP, where she is a member of the Construction Litigation Practice Group. Meredith is Board Certified in Construction Law by the Florida Bar and practices primarily in the areas of construction and business litigation. Meredith has experience in handling a variety of construction related matters, including claims against design professionals, construction defects claims, and delay claims. Meredith is also experienced in drafting and negotiating construction contracts. In her business litigation practice, Meredith is experienced in handling complex civil litigation matters in state and federal courts, including contract disputes, real estate disputes, and other general business litigation matters. She has represented clients in cases spanning a wide range of industries, including insurance, real estate, construction, accounting, and banking.