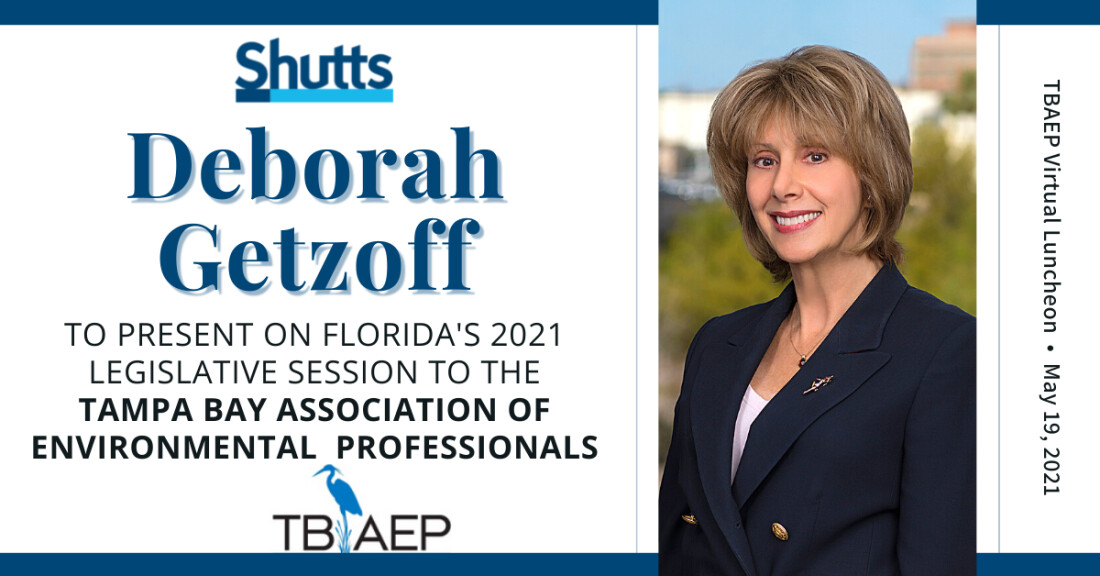 Deborah Getzoff, a partner in Shutts & Bowen LLP's Tampa office, will present to the Tampa Bay Association of Environmental Professionals at their May Virtual Luncheon, providing an update on Florida's 2021 Legislative Session.
Deborah, along with her co-presenter, will discuss environmental topics related to land use, water, wetlands, wildlife and coastal resilience, in addition to appropriations in the FY 2021/2022 budget, including the FDEP's Petroleum Remediation Program and Florida Forever funding. The Legislative Update Program will take place on May 19, 2021 from 12 PM to 1 PM.
To learn more or to register for this event, please click here.
The Tampa Bay Association of Environmental Professionals is an organization comprised of students, scientists, technicians and other professionals working in the field of environmental science. The local chapter provides a forum for the exchange of ideas and the opportunity to participate in events for members in Citrus, Hardy, Hernando, Hillsborough, Manatee, Pasco, Pinellas and Polk Counties.
Event Information
TBAEP's May Virtual Lunch – LEGISLATIVE UPDATE
May 19, 2021, 12 PM – 1 PM
Speakers: Deborah Getzoff (Shutts & Bowen LLP), Timothy J. Perry (Gardner, Bist, Bowden, Dee, LaVia, Wright & Perry)
About Deborah A. Getzoff
Deborah A. Getzoff is a partner in the Tampa office of Shutts & Bowen LLP, where she is a member of the Real Estate Practice Group. Deborah has more than 35 years of environmental and administrative law experience in both the private and public sectors. She has had extensive experience representing developers, hotels, beach communities and condominiums in the permitting of land development projects, beach and coastal construction/protection projects, and marinas before state and federal environmental agencies. Deborah has negotiated issuance of state and federal permits for large-scale developments involving impacts to wetlands, water quality and endangered and threatened species. She has obtained permits and state lands approvals for hotels, beach construction, coastal protection structures, and marina projects. Deborah served as Director of The Florida Department of Environmental Protection's Southwest District Office from 1999-2011 where she managed permitting and compliance activities for Water, Waste, Air and Environmental Resource wetland programs in a twelve-county area. She had previously served as Deputy General Counsel for Permitting at the Florida Department of Environmental Protection.