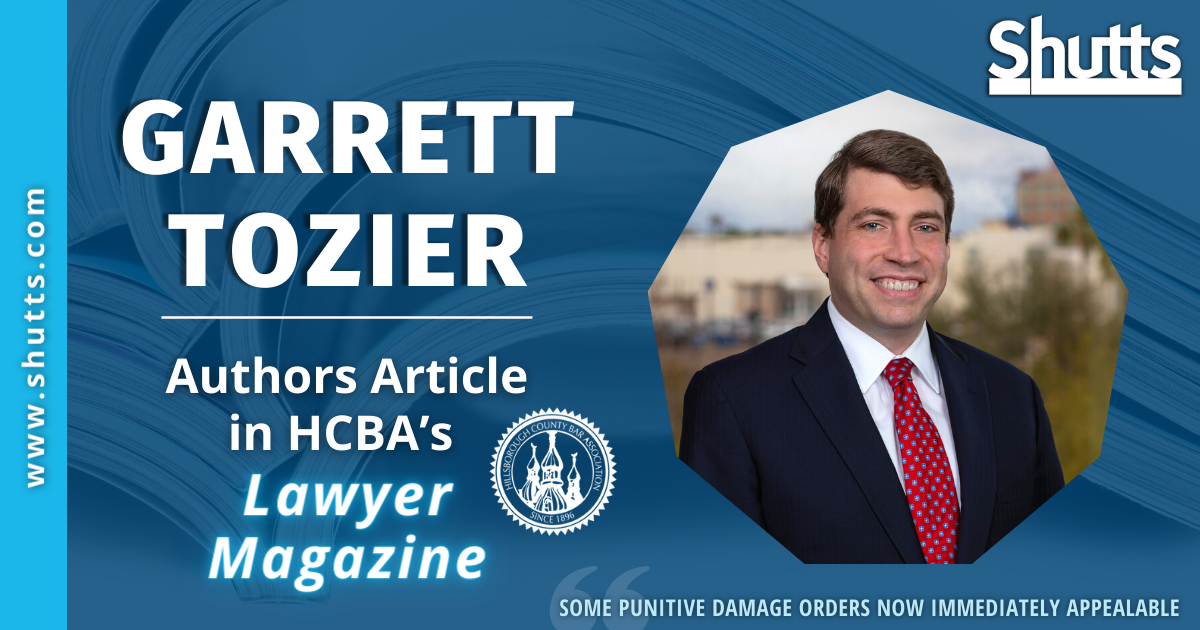 Garrett Tozier, a partner in Shutts & Bowen LLP's Tampa office, authored an article in the Hillsborough County Bar Association's Lawyer Magazine, discussing a recent Florida Supreme Court amendment regarding a new category of immediately appealable nonfinal orders.
In the article, "Some Punitive Damage Orders Now Immediately Appealable," Garrett explains that effective April 1, 2022, Florida Rule of Appellate Procedure 9.130 will be amended to allow district courts of appeal to review nonfinal orders that "grant or deny a motion for leave to amend to assert a claim for punitive damages." He also highlighted the Florida Supreme Court's consideration of the amendment and reviewed recent appellate decisions recommending a rule amendment to replace the limited scope of certiorari review, with the district courts of appeal describing the addition of a punitive damages claim as a litigation "game changer."
To read the article in full, click here.
About Garrett Tozier
Garrett A. Tozier is a partner in the Tampa office of Shutts & Bowen LLP, where he is a member of the Appellate practice group. Garrett represents clients in a wide range of appellate and litigation matters involving commercial disputes, business torts, real-property litigation, and class action and insurance defense. He is experienced in appellate advocacy and procedure in state and federal appellate courts, and routinely prepares briefs on merits, on jurisdiction, and for extraordinary writs in original proceedings.