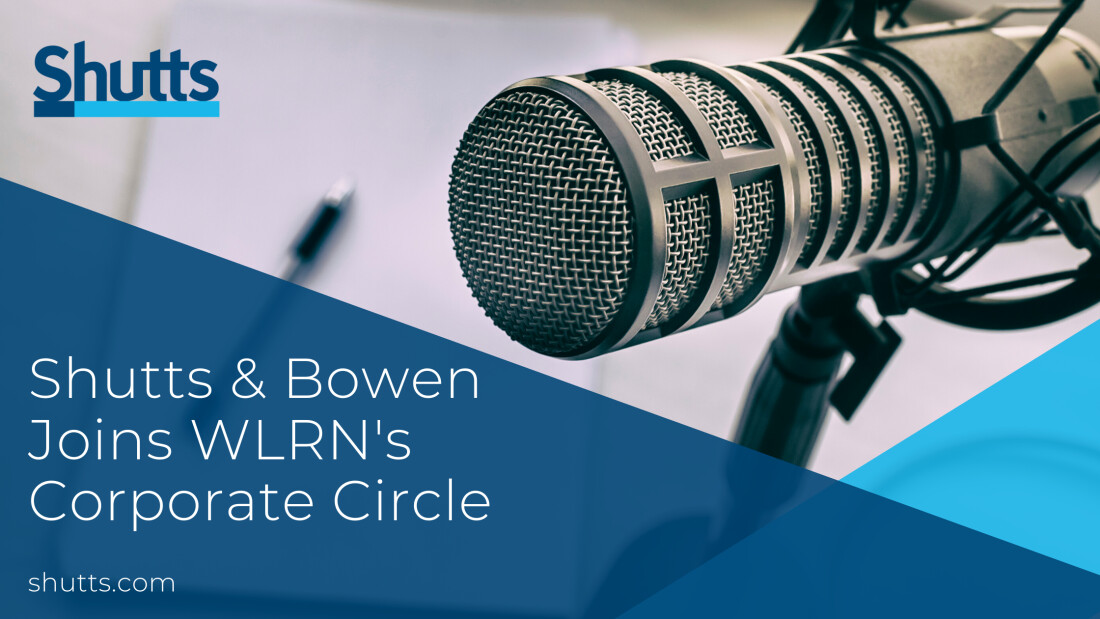 Shutts & Bowen is pleased to announce that it has joined the WLRN Public Media's Corporate Circle as its newest sponsor.
The WLRN Corporate Circle is a group of civic-minded business sponsors whose investment in WLRN underscores their commitment to independent journalism. As part of its membership, WLRN will air custom radio spots promoting the Shutts brand over the next 52 weeks along with promotions on its website and social media platforms.
Joseph M. Goldstein, Managing Partner of Shutts & Bowen's Fort Lauderdale office, was recently appointed Chair of the Board of Directors for Friends of WLRN, a select group of individuals, from a variety of backgrounds, responsible for setting policy and overseeing the organization's general well-being.
"We are extremely grateful for the work of WLRN," said Joe. "It is a vital part of the South Florida community, and we at Shutts are proud to underwrite their programming."
WLRN Public Radio and Television provides information, entertainment, and learning services with a commitment to excellence in serving local, national and international communities, while striving to be the most trusted, valued, and supported public media organization in South Florida.
Today, WLRN continues to provide quality public radio and television services to a combined weekly audience of well over a million people in South Florida, from Palm Beach to Key West. WLRN also provides media support to Miami-Dade County Public Schools, whose 467 schools have an enrollment of more than 356,086 students.
About Shutts & Bowen LLP
Shutts & Bowen, established in 1910, is a full-service business law firm with more than 300 lawyers in offices in Ft. Lauderdale, Jacksonville, Miami, Orlando, Sarasota, Tallahassee, Tampa, and West Palm Beach. Learn more about Shutts & Bowen at www.shutts.com.