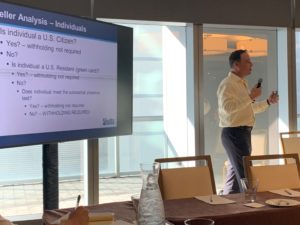 Miami partner Martha Rabbitt and Jacksonville partner Tim Gillis were featured speakers at the RPPTL Real Property Finance and Lending Committee Meeting on November 8 in Miami.
Martha and Tim covered the topic "Introduction to FIRPTA," which discussed the types of transactions to which FIRPTA applies, to whom it applies, available exemptions, compliance requirements, who is responsible for compliance and penalties for failure to comply."
The Real Property Finance & Lending Committee keeps members informed of any developments affecting financing and the preparation and use of mortgages and negotiable instruments under Florida and Federal law. The committee studies the law and cases regarding mortgages and other encumbrances, security agreements, negotiable instruments and remedies for non-payment to provide awareness to the members of the RPPTL Executive Council of the current state of the law and any need for changes.
About Martha Rabbitt
Martha Rabbitt is a partner in the Fort Lauderdale and Miami offices of Shutts & Bowen LLP, where she is a member of the Real Estate Practice Group. A Martindale-Hubbell AV® Preeminent™ rated attorney, Martha regularly represents lending institutions, sellers and purchasers in a wide range of corporate and finance transactions including:  acquisitions; commercial mortgage-backed securities loans and defeasance transactions; refinances of large-scale commercial, hotel, storage and multi-family properties; asset-based lending; boat and airplane loan closings and foreclosure actions.
About H. Timothy Gillis
Timothy Gillis is the Managing Partner of the Jacksonville office of Shutts & Bowen, where he is a member of the Corporate Practice Group. A Martindale-Hubbell AV® Preeminent rated attorney, Tim concentrates his practice in transactional business law and has represented private equity funds and their portfolio companies, publicly traded companies, big box retailers, franchisors & franchisees, physician practice groups, commercial real estate developers, financial institutions, high net worth individuals, and companies raising capital. As a transactional lawyer, Tim has touched the entire spectrum of the business relationship, including formation (shareholders' agreements, operating agreements, joint venture agreements and real estate leases/acquisitions), funding (private placements and debt financing), expansion (trademarks, copyrights, franchising, licensing, employment agreements and non-compete agreements), and exit (mergers and acquisitions).