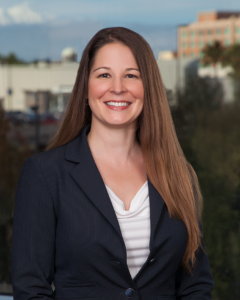 Shutts & Bowen LLP is pleased to announce the addition of partner Laura Bauman to its Sarasota office, where she is a member of the firm's Business Litigation Practice Group.
Laura Bauman adds a variety of litigation experience to the Sarasota office. Her practice focuses on commercial litigation matters, including contract disputes, title defects, lien foreclosures and priority contests, and governance issues involving associations and private social clubs. Previously, Laura advised clients in transactional matters, which gives her a distinctive perspective when advising clients after a transaction has turned into a dispute.
"Laura's experience and skillset really set her apart and we are delighted to have her join us," said E. Zachary Rans, Managing Partner of the Sarasota Office. "Bringing on a quality attorney like Laura is a great example of Shutts & Bowen's commitment to grow its presence in the Sarasota/Manatee community."
A native of Sarasota, Laura currently serves on the Sarasota County Bar Association's Diversity and Inclusion Committee. Since 2013, she has participated in the Florida Land Title Association Claims Roundtable; she is also a member of the American Land Title Association's Claims Counsel Committee. Laura is past president of the Sarasota Seminole Club, and earned both her J.D. and B.A. from Florida State University.
About Shutts & Bowen LLP
Established in 1910, Shutts & Bowen is a full-service business law firm with more than 270 lawyers with offices in Fort Lauderdale, Jacksonville, Miami, Orlando, Sarasota, Tallahassee, Tampa, and West Palm Beach. Learn more about Shutts & Bowen at www.shutts.com.