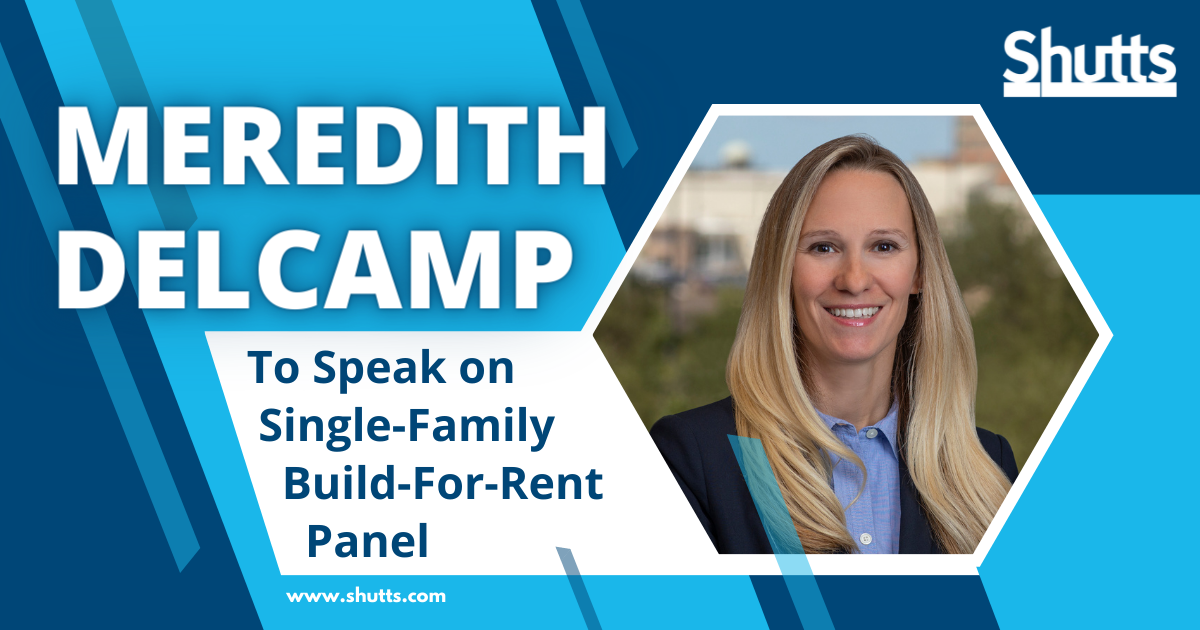 Meredith Delcamp, a partner in Shutts & Bowen LLP's Tampa office, will be discussing the Single-Family Build-For-Rent market as a featured panelist speaker during the Society of Real Estate Professionals breakfast event on April 6, 2022.
During the breakfast panel event, Meredith and her co-panelists will discuss the single-family rental market and the build-for-rent space, one of the strongest growing sectors in commercial real estate. The event will be held at the University Club Tampa. Meredith will be joined by co-panelists Mike Mendelsohn (Hodes Weill), Jordan Farrales (LyvWell Communities) and T. Sean Lance (REALM Capital Advisors), as well as moderator Alex Hoffman (Advanced Engineering Consultants LLC).
To register for this event, click here.
The Society of Real Estate Professionals (SOREP) is a premier group of commercial real estate professionals in West Central Florida whose members encompass a variety of professional industries, including private equity, development, lending, legal, construction, appraisal and more.
About Meredith Delcamp
Meredith S. Delcamp is a partner in the Shutts Tampa and Sarasota offices, where she is a member of the Business Litigation Practice Group. Meredith assists property owners, property managers, developers and businesses in a variety of transactional and litigation matters related to real property. Meredith has experience in the single-family industry assisting property owners, asset managers and property managers with a variety of legal issues ranging from code enforcements to class actions, including assisting with licensing, lease review, policies and procedures and a variety of litigation with tenants and homeowners associations.
Practice Areas
Industries
Offices