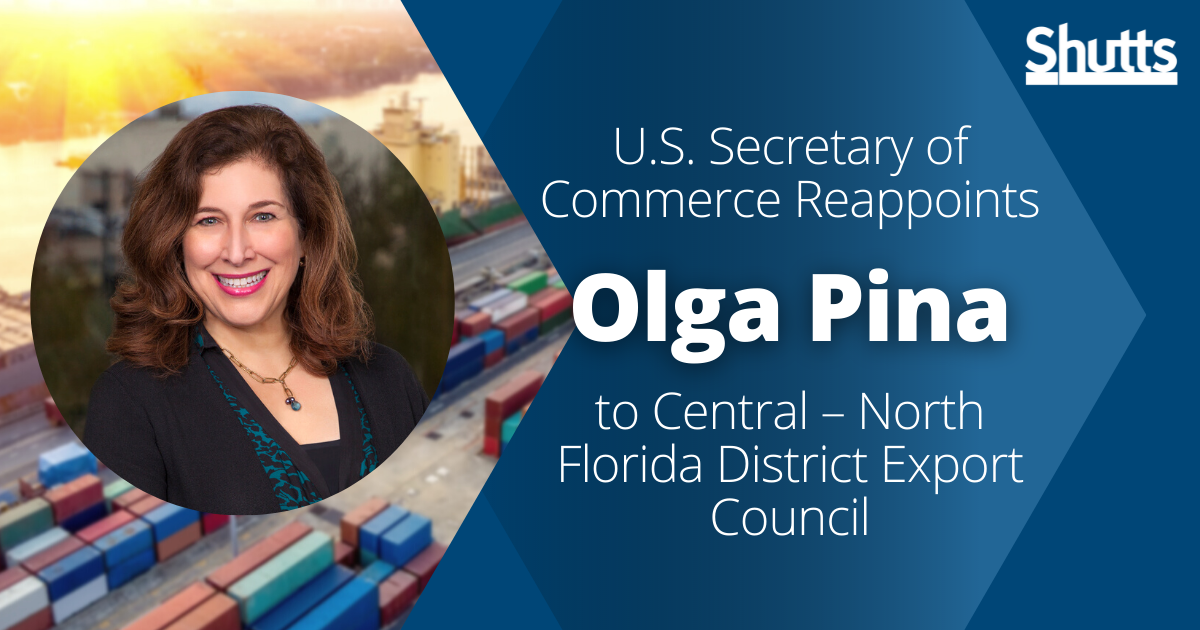 Shutts & Bowen LLP Tampa Partner, Olga Pina, was recently reappointed to the Central – North Florida District Export Council (DEC) by U.S. Secretary of Commerce, Gina Raimondo.
After being nominated in August 2021 and vetted within the U.S. Department of Commerce during the Fall, Olga was recently reappointed to the council for 2022. A Central-North Florida DEC Council Member for the past six years, Olga will once again serve the Council as a selected member of the appointed group of business professionals and experts in exporting for the North, Central, West and Space Coast regions of Florida. She will pool her knowledge with the other 29 Council members to provide professional real-world advice to U.S. exporters and the Florida international trade community.
According to the organization, the DEC is Florida's premier volunteer public-private international business development group. DEC members are appointed by the U.S. Secretary of Commerce, who serves as the voice of U.S. businesses within the President's Cabinet. The Central-North Florida District Export Council is one of the 61 such councils established by the U.S. Department of Commerce, to represent the interests of the U.S. exporting community and provide "business counseling on the export process, trade education through seminars and community outreach" to encourage firms in local service areas to export.
About Olga M. Pina
Olga Pina is a partner in the Tampa office of Shutts & Bowen LLP, where she is a member of the Corporate Practice Group. Olga practices in the areas of corporate, securities, international business transactions and export compliance, including compliance with U.S. Treasury (OFAC) regulations relating to embargoed countries and customs seizures. She has extensive experience in corporate transactions, including cross-border joint ventures and securities issues in Latin America. Olga is Martindale-Hubbell AV® rated attorney and has been named one of the Best Lawyers in America® since 2009 in corporate law. Olga serves as a member of the firm's Cuba Task Force. Olga has written and presented to various groups on legal issues in international transactions.
Practice Areas
Industries
Offices