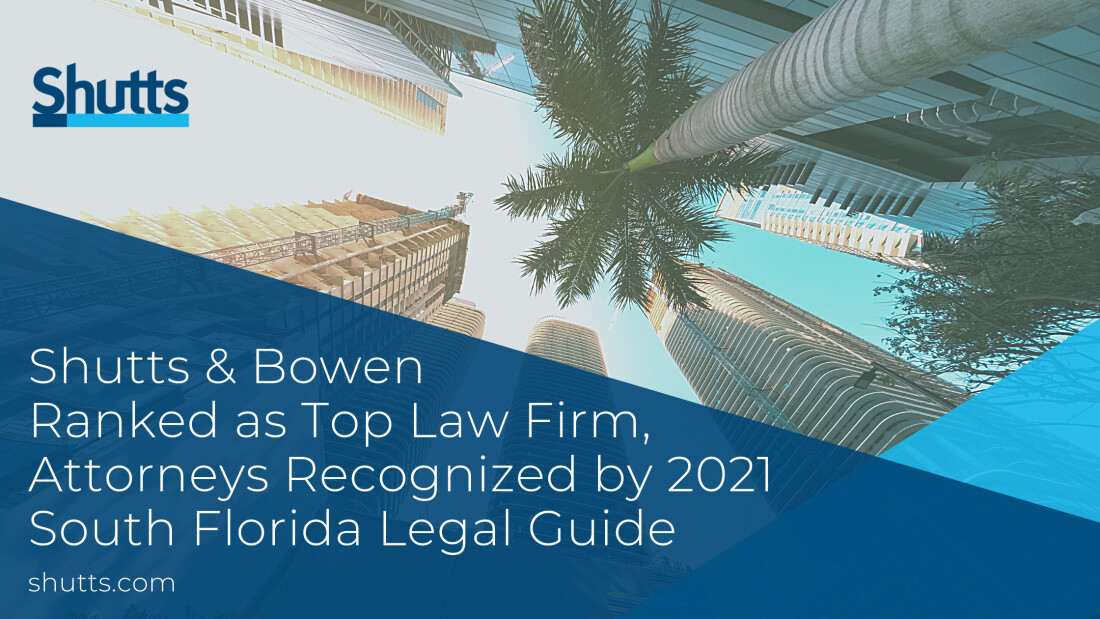 Shutts & Bowen LLP is pleased to have been named a "Top Law Firm" in the 2021 South Florida Legal Guide. The Top Law Firms were selected by the Guide's "Top Lawyers" and "Top Up and Comers" via the Guide's annual ballot.
Twenty Shutts attorneys were also included among the publication's Top Lawyers and Top Up and Comers. Attorneys included as Top Lawyers are nominated by their peers, have extensive experience and a distinguished record of achievement. Those listed as Up and Comers are the next generation of leaders in the South Florida legal community. These attorneys have been nominated by their peers and in most cases have been practicing for a minimum of 10 years.
The following attorneys were included in this year's publication:
Top Lawyers
Joseph D. Bolton
Arthur J. Furia
Logan E. Gans
Steven M. Greenberg
Harold E. Patricoff
Top Up and Comers
To view the publication, please click here.
About Shutts & Bowen LLP
Shutts & Bowen, established in 1910, is a full-service business law firm with approximately 300 lawyers in offices in Ft. Lauderdale, Jacksonville, Miami, Orlando, Sarasota, Tallahassee, Tampa, and West Palm Beach. Learn more about Shutts & Bowen at www.shutts.com.